'Unicorn Store' is a cotton-candy-fueled joyride
by :
Mikael Trench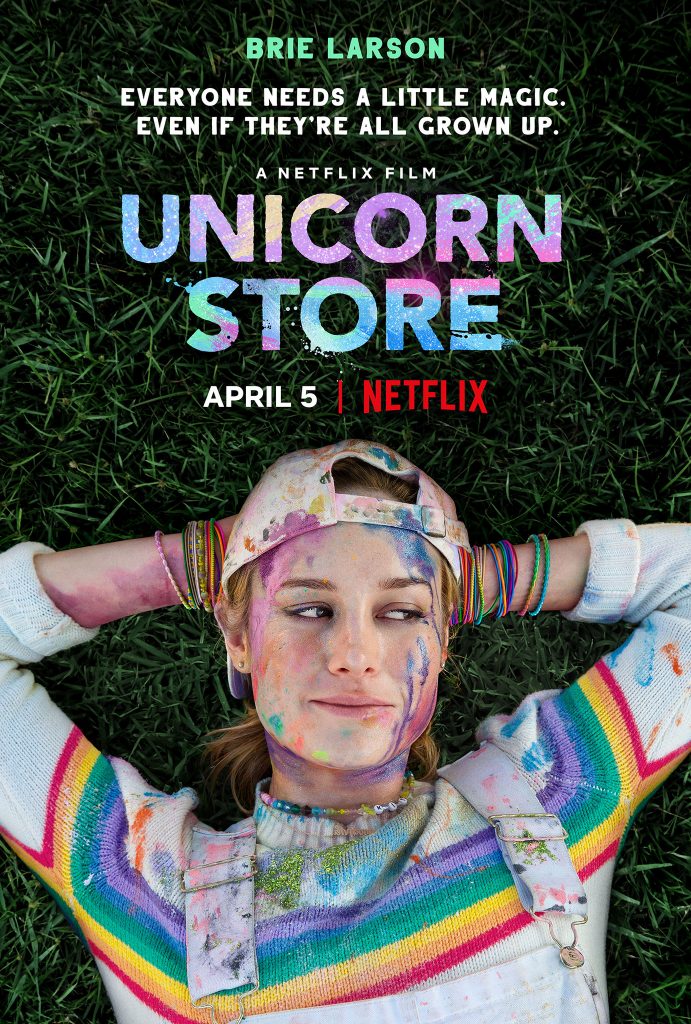 Brie Larson takes her creative career down a new path with her directorial debut, "Unicorn Store." The story focuses on Kit, a young artist who must move back in with her parents when her life goes into disarray. After receiving a mysterious letter, Kit discovers a hidden location known as "The Store," run by a bizarre gentleman who offers to fulfil her childhood dream of owning a unicorn. Kit must then prove that she is worthy to own such a majestic beast, all while deciding if it is time to grow up.
"Unicorn Store" is the textbook definition of a quirky little film. There is a certain impenitent nature that Larson brings to the film, mainly in how it embraces its unique tone — shaping a very entertaining experience. The weird subject matter and mundane setting contrast each other very well to emphasize the true impact of the story taking place.
The cast here delivers top-notch performances. Director Larson portraying Kit creates a character easy to identify with in the many hurdles she must overcome. Between trying to fit in, impressing her parents and holding on to her childhood, Kit comes off as a flawed individual who must get over her own stubborn ignorance in order to find happiness. Samuel L. Jackson — in his third production with Larson — is having a ball playing the weird and wacky "Salesman" who runs the titular store. The rest of the cast includes global talents Joan Cusack, Bradley Whitford, Mamoudou Athie and Hamish Linklater, and all slip into their characters wonderfully and further help bring out the film's unique feel.
While it is obvious in certain elements of the film's presentation that it is a directorial debut, Larson handles the filmmaking side of things with decent success. The cinematography wasn't anything special, with some of the handheld shots being noticeably shaky, but the editing employed a variety of subtle match cuts to craft some creative transitions. The musical score added to the quirky charm of the overall production with its synth-y nature, even if it isn't the most memorable score on its own.
The film's tone, while being balanced sufficiently, struggles in the execution of many of the more grounded and emotional beats. Larson's passion shines through with the execution of the quirkier elements of the film, whereas the emotional beats felt somewhat underwhelming in comparison. This has more to do with the obvious way they are structured into the screenplay, more specifically, the feeling like they are there only because they have to be instead of having the sense of genuine emotion that they should have.
The primary downside of the film, besides some of its elementary production values, is the film's ending. Without giving much away, an element towards the third act is questioned, leading to some potentially interesting ambiguity as to what the film is trying to say about holding onto our childhood. However by the end, the mystery behind the proposed question is given a direct answer, leaving this conceptually interesting concept to feel pointless and over-simplified.
"Unicorn Store" is overall a fun and whimsical observation of what it means to be a "grown-up" and is earnest and entertaining all the way through. It may not be a film for some, but for those willing to suspend their disbelief and fall into the journey, "Unicorn Store" is a spot worth taking a visit to.
Review overview
Summary
8.4"Unicorn Store" makes for a solid start in Larson's directorial career with an unapologetic sense of fun and whimsy that is hard to hate.