Student designer spotlight: Cecilia Xie
by :
Valeria Brugueras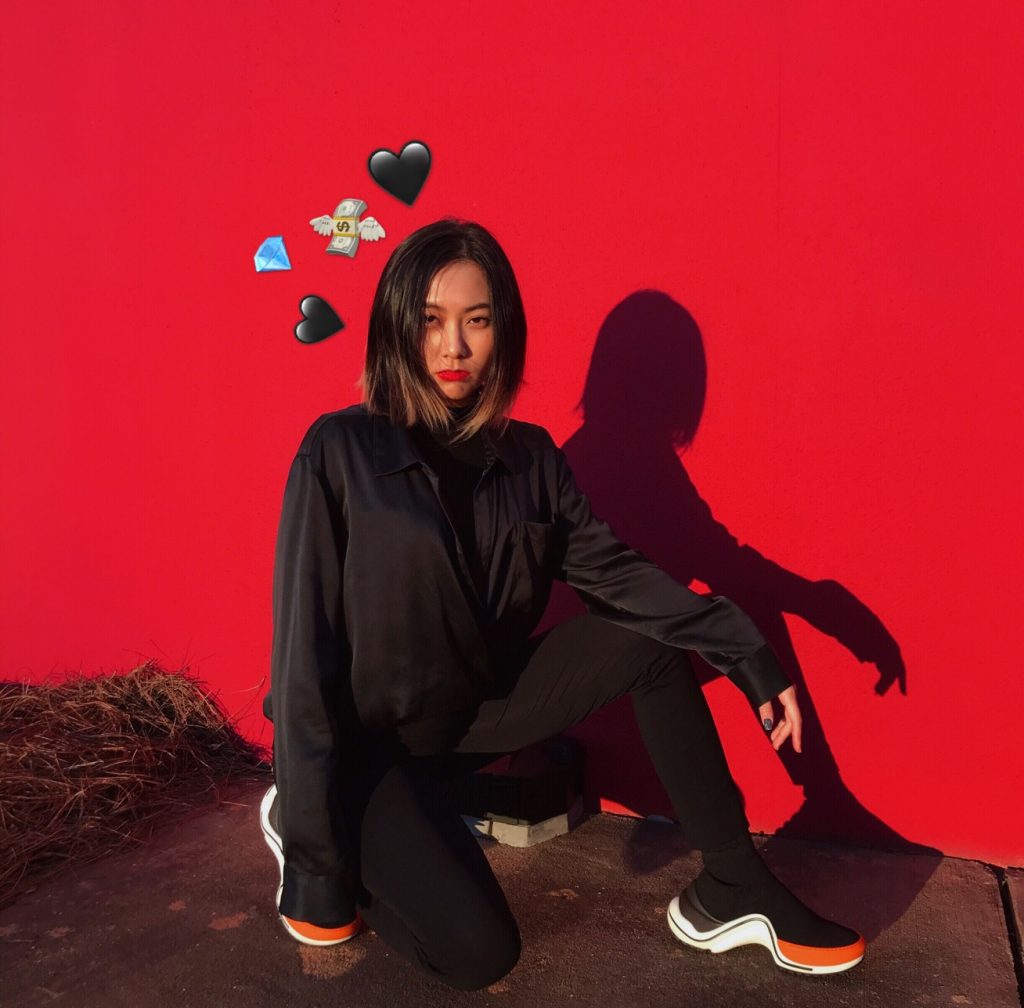 Xie is a third-year fashion design student from Guang Zhou, China who values fashion's contribution of change and confidence towards women. Her spring/summer 2019 collection, "Bright and Brave," is centered around women's two side:the feminine and the rebellious.
Xie's vision of women's rebellious nature comes from her love of Alexander McQueen's craziness and his spontaneous work. The elegant characteristics are inspired by Christian Dior's beautiful silhouettes, in which she thinks of them as being the most beautiful sides of women exposed.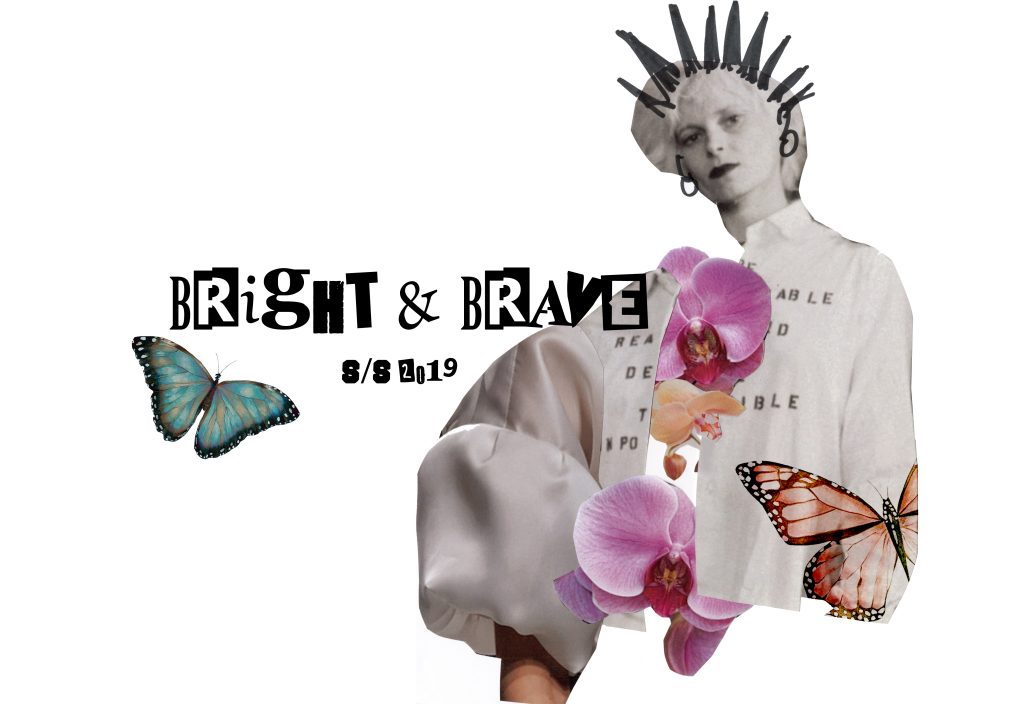 The Connector: How did you get interested in fashion design?
Xie: Probably when I was in elementary school while I was watching runway shows, but I didn't quite know what they were doing exactly. I saw pretty garments presented by the designers on the show, and I would be like, "Wow, this looks really cool and quite fancy." So I started drawing, just sketching what models were wearing on the fashion show. That was my first time doing fashion sketches.
The Connector: How would you describe your personal style?
Xie: I actually like both feminine and cool stuff such as street wear. I like to combine the two in order to reach different kind of areas because at the end it doesn't become just one thing.
The Connector: What's the story behind the SS19 collection?
Xie: It's actually a collection in which I want to express the feminine power through the garments that I designed. This collection contains punk elements because I want to emphasize the strong, tough side of women and for the feminine part, I added floral patterns and chiffon to show how women cannot be weak, but elegant and strong at the same time.
Courtesy of Cecilia Xie.

Courtesy of Cecilia Xie.
The Connector: What techniques did you use to come up with the designs?
Xie: The techniques that I used were prints, hand painted patterns, lace and in some occasions laser cuts. I ended up using lots of leather, mostly printed ones.
The Connector: Talk about your favorite collage for this collection.
Xie: I think there are two strong ones that I loved. The first one is about what I mentioned about the concept, the butterfly represents femininity and then the leather jacket, which was from Alexander McQueen, brings it all closer together — a strong image of a butterfly. The second one is a pleated leather dress with Dr. Marten boots, a punk boot, collaged with flowers on top of it. So, it's telling that even though you're wearing something really punk or cool outside, you are still an elegant woman on the inside.
Courtesy of Cecilia Xie.

Courtesy of Cecilia Xie.
The Connector: What's your favorite look of this collection or the one you identify the most with?
Xie: My favorite look I constructed in the apparel two course. It's strong. The top is different than the normal tuxedo because it has ruffles on the sleeves, and there are cutouts on both elbows. To complete the look, I added wide leg trousers that have a butterfly print on them.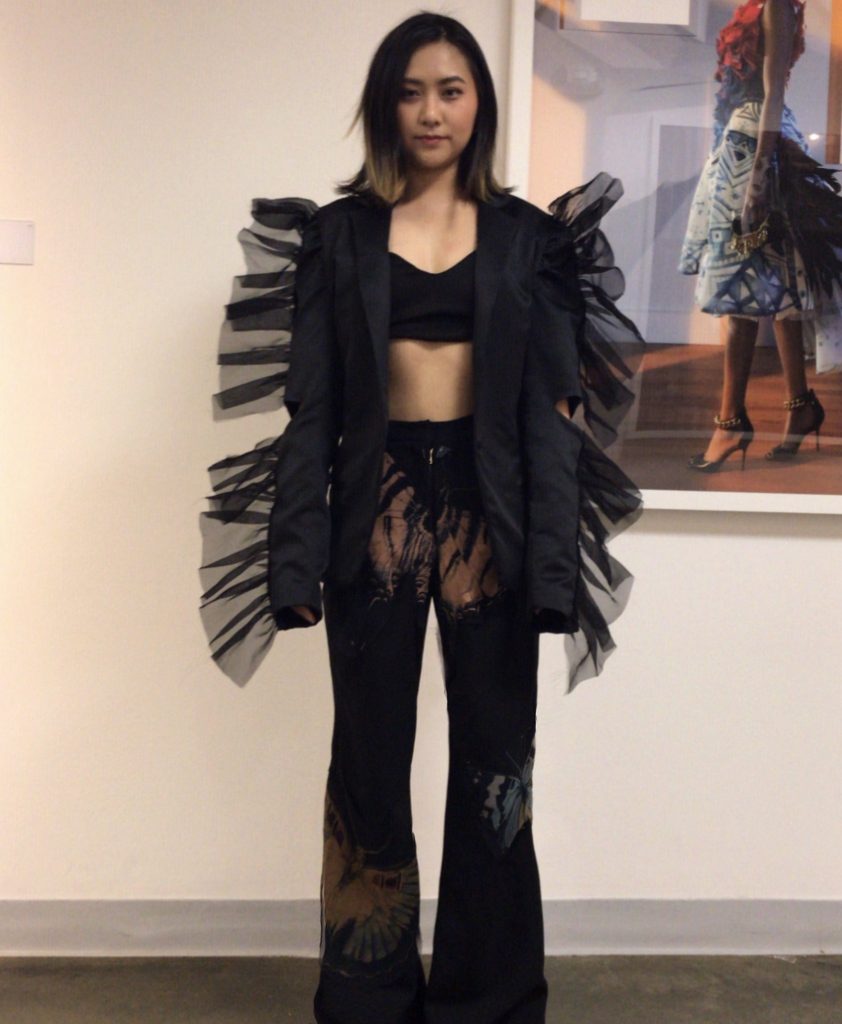 The Connector: How do you envision the personality of the women who would wear your clothes?
Xie: She is someone elegant on the outside but rebellious on the inside, or dark and dangerous on the outside, but soft on the inside. She can be a charming lady who dances gracefully with a gentleman or a cool girl who walks on the street with a lit cigarette. Like I say on my statement for the collection, "Women wearing chiffon dresses are living the life in other people's eyes but are dressing for other people. When night falls, with her leather jacket on her shoulders, she is finally able to express herself."