Sugar Sweet: Sugar Hill Bakery
by :
Kianna McCalla
When you first turn onto W. Broad Street in Sugar Hill, GA you'll be greeted by a whimsical little building that seems to have stepped fresh out of Wonderland. The Sugar Hill Bakery has become an interesting staple in the area with its frequently changing exterior. This is a fresh coat of paint and new eye-catching decor with every holiday or season. The building has been pink, yellow, green and everything in-between.
I recently stepped foot into this magical place for the first time and was in no way prepared for what I saw on the inside. It looks like the inside of Peter Pan's hideaway. The perfect combination of woodland magic with branches and tree trunks seemingly growing through the building and everything/one has learned to exist around it.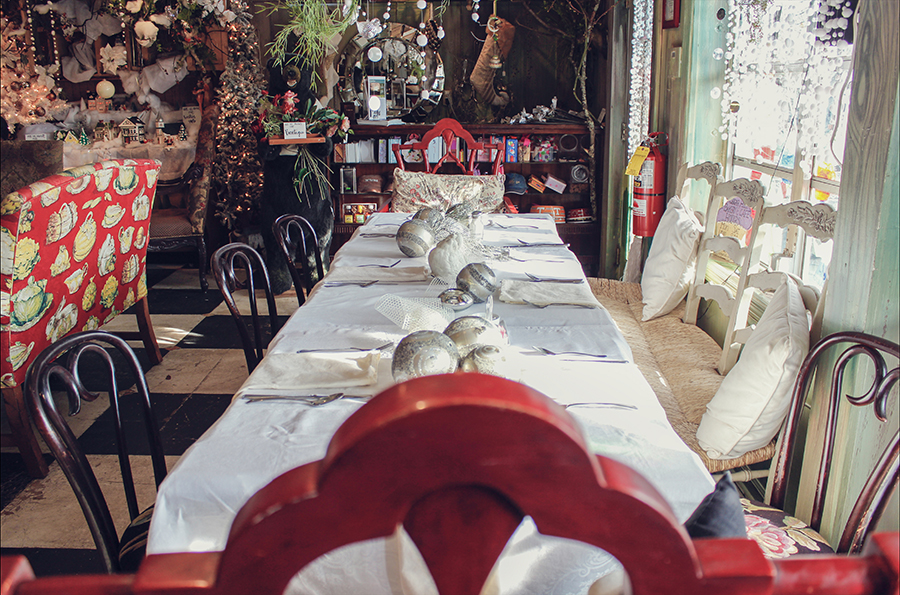 When you first open the door, you're greeted by a 5-foot-tall bear with a brown platter in his hands. The sign that sits there has varied from "Please wait to be seated" to "We're looking for morning help." The dining area includes mismatched chairs of all types ranging from wood to a red, floral sofa that looks like it belongs in a living room instead of a bakery.
Just like on the outside the inside changes with just as much frequency. I was delighted to see that the flowers that have come to live on the ceiling have taken on a frosted, evergreen look for the winter season (if Georgia can call 75 degrees winter that is). A bookshelf that sits against a wall has been overrun with white felt to mimic snow and miniature homes and people recreate an adorable scene. Christmas trees sit next to the door leading to the kitchen and a sign proclaiming 'Merry Christmas' with little snowmen sitting above the bar.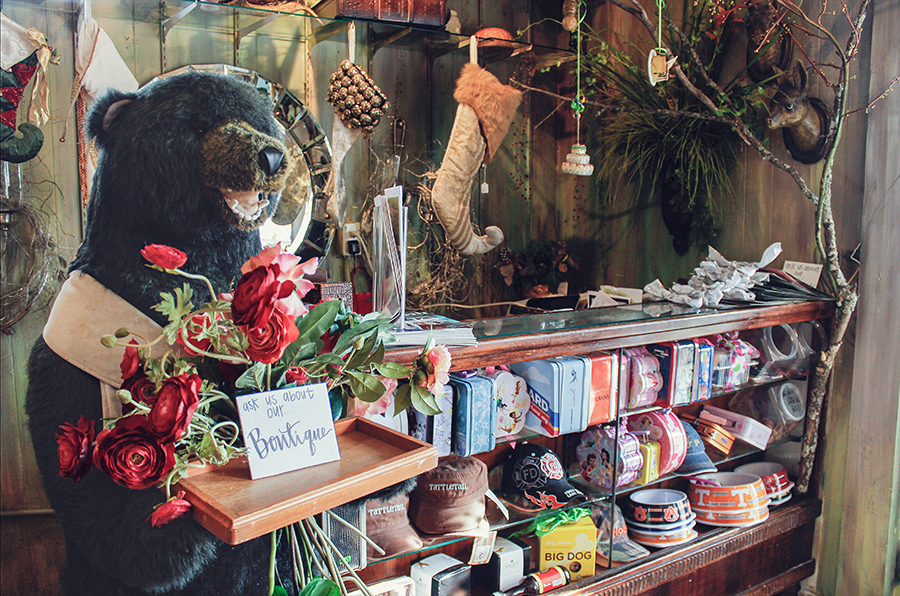 Sugar Hill Bakery is about the size of a two-car garage, if not a bit bigger. Its size and abundance of homey decorations creates a comforting space that's almost smoothing contrary to how tight the space is.
But enough of what it looks like. How's the food?
Well in a word, heavenly.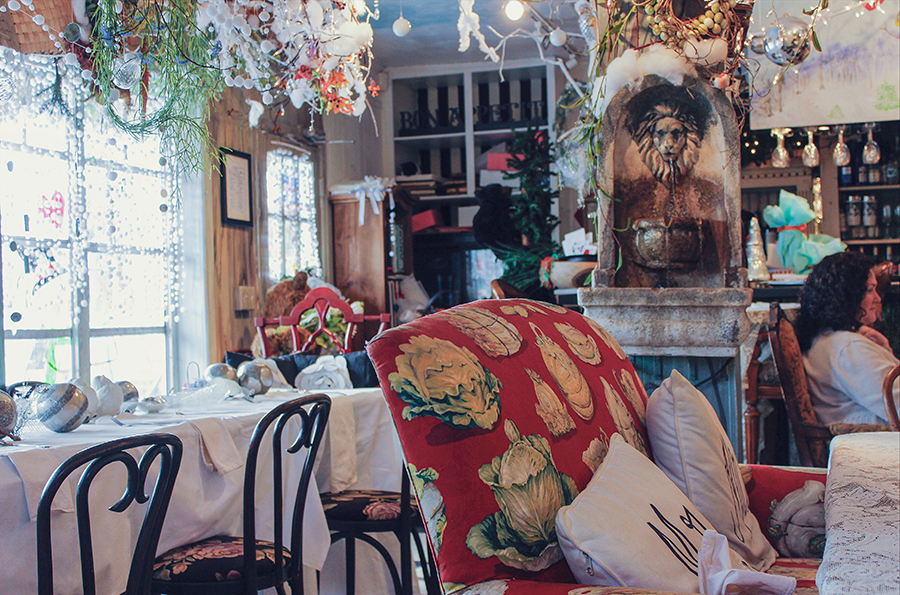 The desserts range from cupcakes to cakes to cookies and more. I've tried one of each and now struggle to not buy one of everything whenever I visit.  However, the lava cake still stands as my all time favorite. With a perfect scoop of chilled vanilla ice cream on top of this molten dish, it is sinfully delicious.
If you don't have much a sweet tooth but would like to enjoy some fantastic interior design they also have a regular menu of sandwiches, soups, salads and all day brunch. Such a whimsical idea. All day brunch in a place like this. Reminds me of something out of a Disney movie. To be truthful I have yet to try their entrees, because those desserts are far too enticing on their own, but next time I visit I will make sure to try one of their sandwiches. They look and smell far too good whenever they pass my table.
But the fun doesn't stop there. The Sugar Hill Bakery also features Murder Mystery themed dinners. If you're looking for something a little different to do with friends and family you can host one of these private parties. The menu is customized to fit the themes which range from the 1970s to their soon-to-be-added Medieval theme. Imagine, you and the people closest to you getting dressed up in ridiculous costumes to enjoy a fantastic dinner and play a real life game of Clue. I don't know about you but I know what I'm doing for my 21 birthday!
The Sugar Hill Bakery is a family-owned business that has occupied its colorful spot for five years now and has taken the hearts, and stomachs, of many. I'm interested to see where they take themselves in the future and will happily be along for the tasty ride. I implore all of you to check them out on 4969 W. Broad St in Sugar Hill, GA.