Festival Season Gone Salty-Creamy: A Review of Atlanta's First Annual Mac and Cheese Fest
by :
The Connector
Can you say, "Salty-gooey-tangy tastebud meltdown," five times fast? I did, or at least I tried to, when I attended Atlanta's First Annual Mac and Cheese Fest on October 8th at Walker Park.
So I should preface this gastro-adventure tale by sharing that I am lactose intolerant. Also, I have IBS and am prone to bouts of food poisoning, all stemming from an E. coli infection I got from bad eggs while studying abroad in 2006. Yup.
Needless to say, in order to enjoy this particular eating experience, I needed to prepare. First and most importantly, I had to gird my intestinal loins. For two days straight before the big event, I ate spinach and kale salads and drank Synergy's Gingerberry-flavored Kombucha and spring water. When the day of the great noodle, salt, and cream smash finally arrived, I styled my extra-long box braids in a half-up half-down bun to prevent any incidents of cheese and hair interaction. For my attire, I chose to go with a nice pair of leggings, a tee with an important message for the day ( "Ratchetness as Praxis"), a denim over shirt to guard against the fall breeze, and a sturdy yet stylish pair of lace-up boots. The overall effect was comfy-chic, something that said, "I know you're looking at me as I shovel this deliciousness down my mouth hole, and I don't wanna look like a complete slob, but I do want to allow my stomach the freedom to expand as it wishes."
She was cute or whatevuh. As we neared the entrance to Walker Park, I popped two Lactaid pills and downed them with a swig of spring water. By the time we got through the line and inside, they would take effect. I was ready.
The organizers' approach to the festival was to treat it like an exclusive event, an experience to be had by a limited few put on by the Edgewood Neighborhood. Anyone could attend, but only ticket purchasers sporting a neon-yellow tear-away wrist bracelet could actually eat mac and cheese. The proceeds from the event went to the "Neighbors in Need Fund," a non-profit set up to pay for needed renovations in the homes of elderly residents in Edgewood. Tickets were $20 and included your choice of five 4-ounce tastings of macaroni and cheese from various vendors. I did my homework ahead of time and came across an article written by Lindsay of the Hunger Diaries blog. It was very helpful, breaking down where to park, the ticket and voting systems, other food offerings, etc.
Beyond just experiencing the decadence of the mouth-feel and savory goodness that is a plethora of types of mac and cheese, participants also got to vote on their fave. So, in theory, the more you tasted, the more informed your vote. And let me tell you: I am an informed voter. I don't want no stinkin' box Kraft knockoff masquerading as a winner, delivering empty cardboard promises of goodness to my tastebuds. No. This, was the FIRST Atlanta Mac and Cheese Festival!
Besides, for me in particular, I wanted my mac and cheese encounters to be worth the intense bout of gassiness I knew was coming. If I have to be a gas bag, make it worth my while; go for the big, stinky cheese, or go home.
The crowd was a direct reflection of the Edgewood neighborhood: a truly mixed bag of mac and cheese enthusiasts. Families, couples, hippie elderly, hipster teens, and superfly single fellas and ladies like myself, were all in attendance. Even my nephew Beau, the Coolest Kid Under Two in Powder Springs, made the cross-town trek to show up.
The mac and cheese booths were set up around the perimeter of Walker Park. Positioned t 12 o'clock there was a stage set up. Local bands performed pretty good cover songs and some original material too. The mac and cheese booths were positioned clockwise from 12:15 to 5:30. The King of Pops and Red Velvet Mama offered eclectic and classically cool desserts like "Lemon Basil" popsicles and "Ohh LaLa Oreo Red Velvet" whoopie pies at the far end of the park. Various booths with beer offerings and a very busy booth called Lemonade Mixology were the purveyors of the beverages. There was a cotton candy stand selling unique flavors like Bubblegum, Macadamia Nut, and Coffee and Kahlua. As the adults waited in line, little kids ran and played in the center of the park.
With my older sister and nephew, my younger sister and her boyfriend and myself, we had 20 tickets between us. There were slated to be an estimated 25 recipes of mac and cheese to sample, with some vendors offering multiple variations. With our tickets combined, we would sample practically everything!
That was my plan, at least.
What happened, was the result of what I can only interpret to have been the effect of organizers perhaps not calculating enough servings for their attendees based on expected popularity. The Festival was scheduled to last from 12:30-5:30. My group arrived at 1:45. Some vendors had already begun packing up when we arrived, with most gone by 4PM. It quickly became obvious which recipes were the favorites; their lines were the longest, or they were already packing up because they were sold out. The Facebook page and website had boasted such unique concoctions as Four Cheese Truffle Mac, Southern Sicilian Mac & Cheese, and Smoked Salmon Mac and Cheese. All sounded promising. Of them all, I got to taste none.
What I did taste, was a Pimento Mac and Cheese from Newt's Eatery. Now, I'm just gonna say this: I was raised in the South, and my Momma always said, "Jas, if you ain't got nothin' good to say, don't say nothing at all."
But alas, reviewing doesn't work quite that way, so here goes: this was bland. It tasted like the pimento cheese served with stale crackers, cold, jelly-like and forgotten on Southern hors d'oeuvres trays across the nation. And while they offered toppings in lieu of bacon (I opted for potato chips and tomatoes), the bland somewhat filmy pimento taste and texture was still the backdrop for the toppings. Whomp-whomp.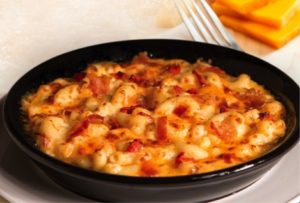 Newt's Pimento Mac and Cheese with Bacon
The other recipe I tasted was B2 Street Eats' Shredded Turkey Leg and Belgian Waffle Mac and Cheese with Maple syrup drizzled on top (not pictured, because the guy basically gave me a spoonful). It got mixed reviews among my group, but I thought it was pretty tasty, but only in a small portion. The maple syrup may have been the reason for this; the idea of syrup and cheese was disconcerting among the group, however I likened it to when some syrup gets into your cheesy scrambled eggs. Not a flavor profile I seek, but not bad when I come across it.
So, none of the ones I tasted were really worth voting for, unfortunately. As the afternoon neared evening, we made our final rounds, grabbing some red velvet for the road and saying goodbye on the playground to Emma, Beau's new friend, and her parents.
Overall, the experience left me full and groaning, wobbling down the sidewalk back to my car. There were some logistical issues with there not being enough food to go around and also of the lines being way too long; perhaps next year vendors can be required to have at least two servers going at all times. Also, many people left not having used all of their tickets. I was given three additional tickets when I first arrived by a woman on her way out. It would have been cool to have a bucket were extra tickets could be tossed in on the way out and those coming in could retrieve them if they wanted extra tastings.
In spite of these small snafus and leaving me with a full-to-the brim belly, this particular festival also left me full with an undeniable sense of communal fellowship. We ate, we drank, we were merry, and all for a good cause.
I will be back again for the Second Annual Mac and Cheese Fest, and next year, I anticipate it being better than ever.