SCAD Atlanta athletes show off school spirit at pep rally
by :
Emma Dakin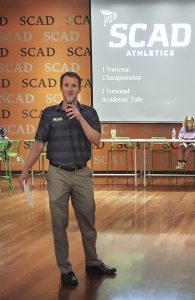 SCAD Atlanta Athletics hosted a pep rally for students in the Hub Jan. 19, presenting SCAD Atlanta's men's and women's teams in tennis, golf, cycling, track and field, cross country and bowling.
The different teams handed out T-shirts to students while Glen Hill, the athletic director for SCAD Atlanta, announced each team's recent accomplishments.
"The idea behind the pep rally was we wanted to raise awareness in the student body about the athletic programs here," said Hill. "We also wanted to help generate some school spirit and just create an enjoyable experience for everybody."
Hill said that many students aren't aware of the different teams that SCAD Atlanta has to offer, or their level of talent.
"We've got some fantastic, nationally competing athletes and people don't realize how good they are," said Hill.
The athletics program's accomplishments include one national championship, one national academic title, two national sportsmanship awards, six conference championships and ten national championship appearances. Five of SCAD Atlanta's 12 teams are ranked in the top 20 nationwide.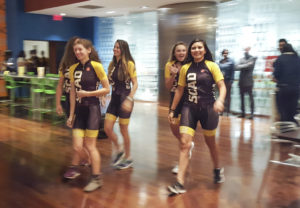 Hill said he hopes students enjoyed the rally and gained more knowledge about the athletics program, and he encouraged students to get involved.
"You don't have to be a great athlete to be involved and be a part of this community," said Hill. "But the more communities you're engaged with, the better your overall school experience will be."
For more information about SCAD Atlanta Athletics, visit www.atlanta.scadathletics.com.