Creative spaces: industrial DIY
by :
Anya Haber
"Creative Spaces" is a feature in which we showcase the living spaces and interior decor choices of SCAD students and Atlanta creatives.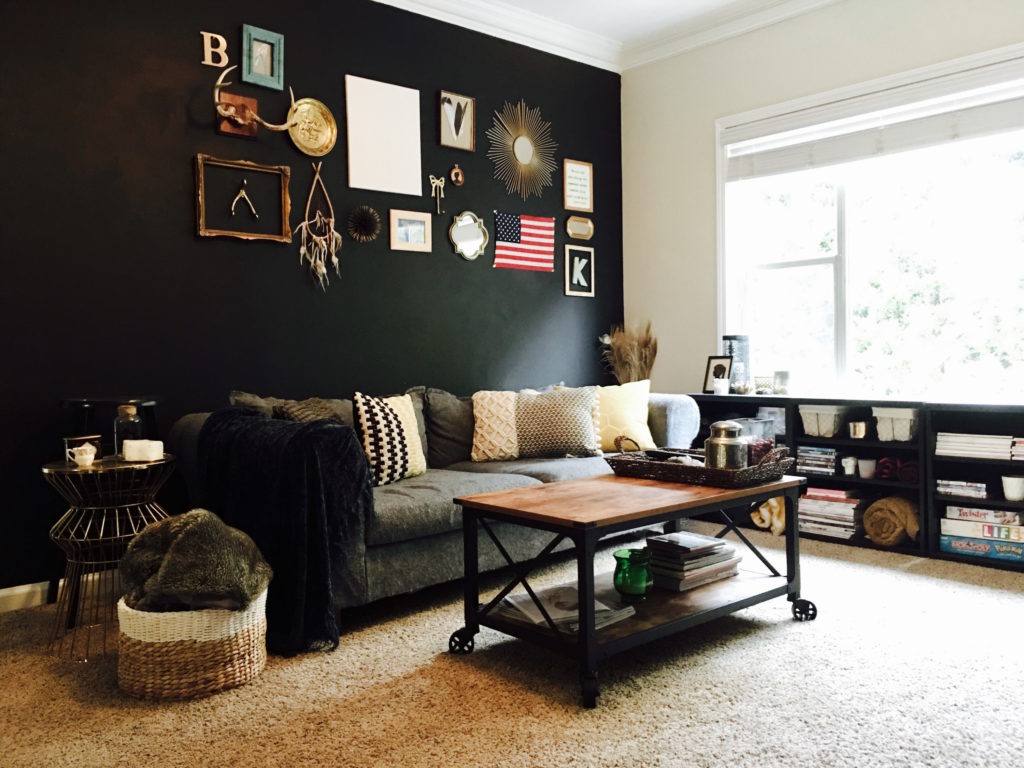 Our living spaces are not merely places we go at night to rest our heads. How we design our spaces is a reflection of our individuality, our needs and inspirations. Even though many students' living spaces are temporary, they have still found ways to bring their own uniqueness to their living quarters. This week's creative space belongs to Brooke Garnett, a fashion marketing and management student. Unfortunately, she recently moved out of this space, but luckily, she had a photographer take a few pictures of the space before she left.
How would you describe your style?
I'd say it's a mix of girly, DIY, eclectic and hipster. I got a lot of cool ideas on Pinterest that I made myself. I also went to thrift stores and repainted pieces I found.
What are your favorite pieces or spaces in your apartment?
My couch is my favorite piece of furniture. My parents got that couch at a San Francisco Goodwill in 1987. It was always a hideous, yet super comfortable couch. I saw a couch at West Elm that I loved, but it was too costly. I decided to reupholster it with felt. I took the skirt off, only to uncover these gorgeous mid-century painted legs. When I finished, it ended up looking really close to the West Elm couch.
My favorite part of the apartment was the little nook with the cardboard structure because it was incredibly versatile and I knew I could change it out with different things for different seasons. I love that cardboard piece. I saw it in my professor's office so many times. She said it was a student's project that was never picked up. I kept asking for the name of the student so I could reach out to them and ask if they could make something for my apartment (and pay them for their services). Instead, the professor asked the student if I could have it, and she was cool with it.
You've lived in a few different places. How was this apartment's style different from your previous aesthetics?
All my apartments leading up to this have been really girly. They looked like Kate Spade threw up in my apartment. I don't know what happened because it wasn't what I was going for. To have a different aesthetic for this space, I took the old pieces and redid them. I love the way everything turned out.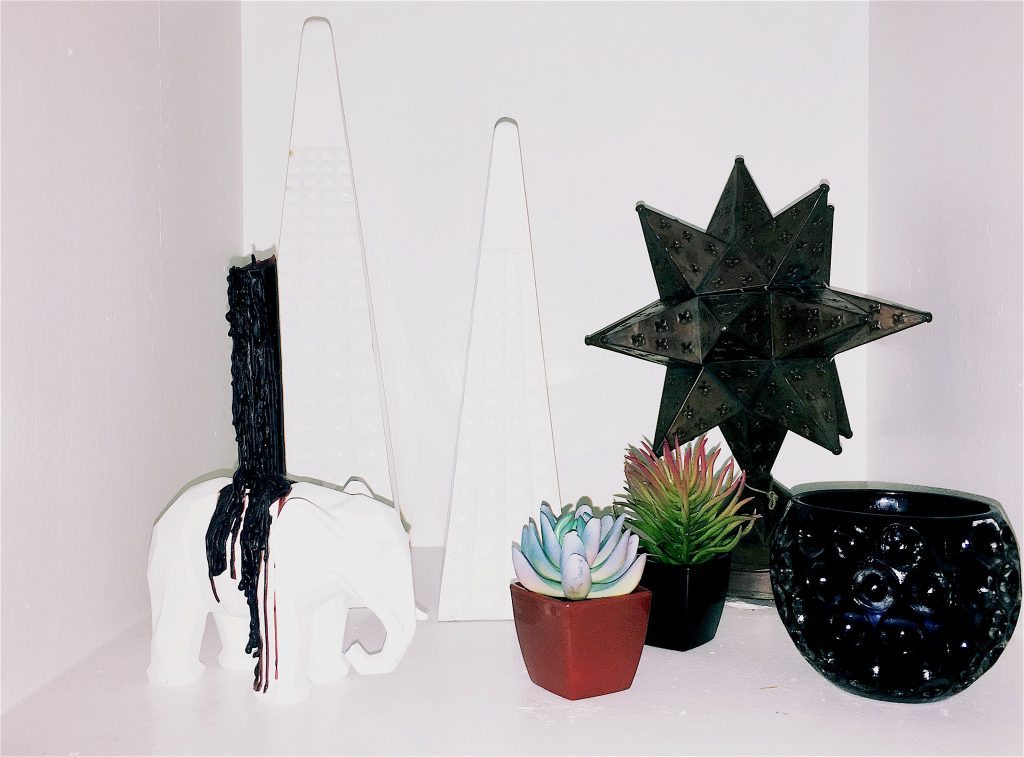 How did you cover or fix the aspects of the space you didn't like?
When I moved in, the walls were painted a really unappealing beige color. The paint job was also disastrous. There were bobby pins painted into the walls. Most of my stuff are neutrals: brass, grays and blacks, with accents of blues and turquoises. Therefore, I wanted an accent wall that was either black or stark white. I went for black because my last apartment's walls were white. It took a few bottles of wine and one night, with the help of my boyfriend, to paint it with black chalkboard paint.
I loved the windows in the apartment because they let in a lot of light, but they were custom so it was impossible to find curtains to fit. I was going to get industrial piping and mount them to the wall instead of a rod. I bought two fabric shower curtains and cut them in half and that worked perfectly. Unfortunately, I didn't have the time to hang them before I moved out.
You seem to love repurposing furniture and making your own decor. Is there a specific reason why?
The cool thing about doing a DIY project is that you have something you love to show for once it's completed, rather than a feeling of relief that it's over. Whenever people would come over to the apartment, they would always compliment the pieces I made, so there's a sense of accomplishment and pride.
In school, even if you love your professors, there's a certain weight hanging over you because of deadlines, and it's stressful. You have to finish projects by a certain time, rather than doing them the way you want. Also, if you don't like what you've made, you can always scrap it and start over.
Proudest DIY?
There are so many! One I haven't mentioned is the coat rack I made out of industrial piping from Home Depot. The industrial interior design style has been trending the past few years, but it's so expensive to purchase and it's usually poorly made. When I was at Home Depot buying the materials, an employee worked with me to help figure out the logistics of the project for over an hour.
There's a lot of textures in your living room. Was that intentional?
Not really. I have this bad habit of accumulating throw pillows. I don't realize it's happening until I come home and there's 15 on the couch.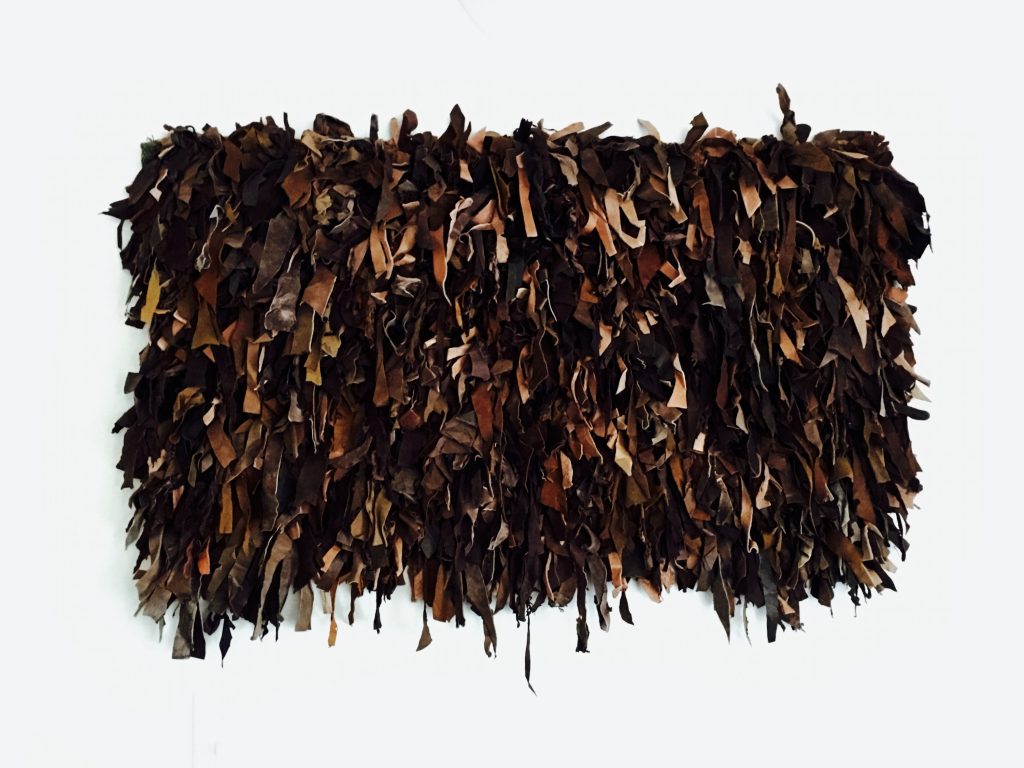 What did you dislike the most about the apartment?
I hated the shag carpet. Before I moved in, the apartment complex renovated the whole apartment, except they left the shag carpet. It was really itchy and uncomfortable. I layered a lot of rugs in my old apartment and it looked really beautiful there but, no matter how hard I tried, I couldn't get them to look good on the shag.
Looking back on the apartment, how do you feel about it?
I miss it. It was a really great apartment.
Do you have any advice for others?
Don't be scared to put holes in your walls. They are easy to fill. Don't be afraid to paint the walls. Plastic to cover the floor is easy to find and cheap. When I moved out, I only had to paint a primer over my black accent wall, rather than painting it back to its original color. Also, don't be afraid to ask the people at Home Depot for help. They are usually really bored, really nice and really willing to help.