Construction for new residence hall is underway
SCAD Atlanta's plans for a new, 14-story residence hall will affect traffic surrounding the main building through 2019.
by :
The Connector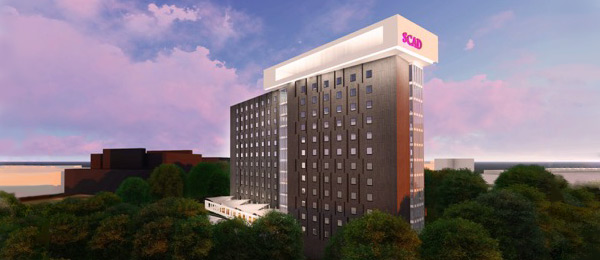 Due to the construction of a new residence hall, SCAD Way will be closed through Wednesday, July 31, 2019. Vehicles will be able to enter the SCAD Atlanta parking garage from Peachtree Street, but the road will be closed from the parking garage through the tunnel, to Spring Street NW.
A traffic study suggests a 40 percent increase in vehicle traffic entering campus, leading to an approximate 20-minute increased commuting time for SCAD students, faculty and staff. Be sure to allow yourself extra time as you are driving to and from class and work. SCAD is also working with the City of Atlanta to adjust the timing of traffic lights to allow more vehicles to move through the intersection and decrease traffic backing up on Peachtree Street.
By early March, the current pedestrian access point between SCAD Atlanta and Spring House will be removed and students, faculty and staff will be rerouted to temporary walkways and stairways.
Additional information will be distributed as the project progresses.