aTVfest offers a look inside the world of television writing
by :
Allison Bolt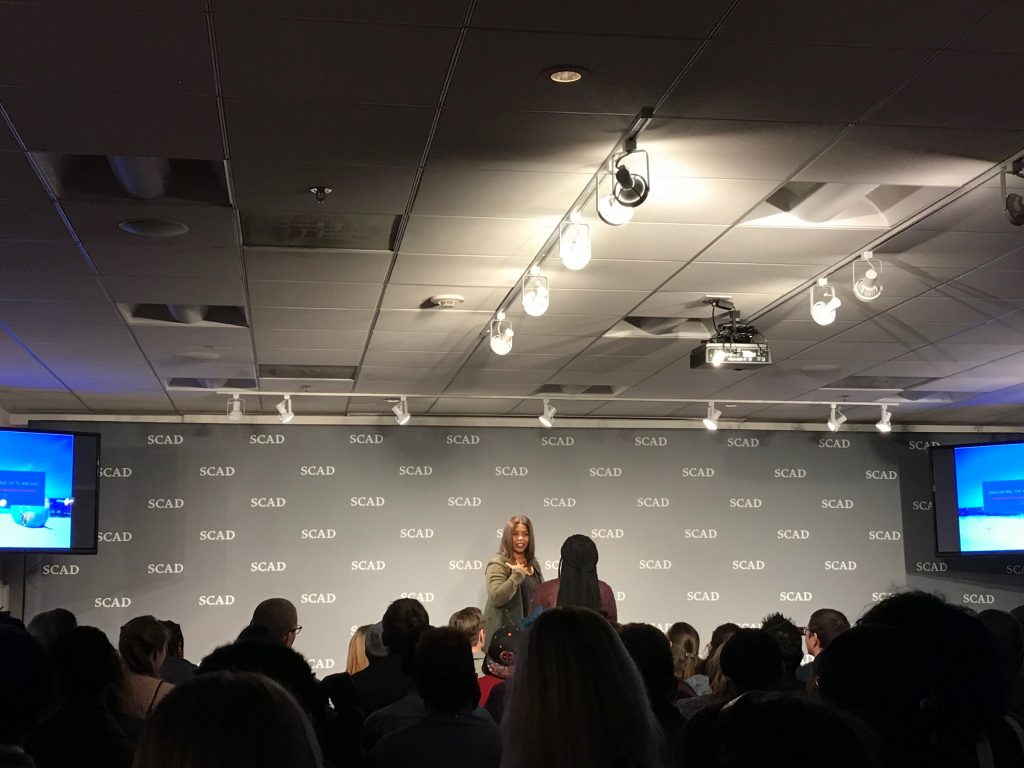 The aTVfest panel "Navigating the World of Television Writing" provided a constructive workshop with a motivational tone. Speaker Karen Kirkland is the vice president of talents development and outreach at Nickelodeon and offered insights into the world of television writing for aspiring writers.
With the tactics of a motivational speaker and and stunning passion, Kirkland provided a unique panel experience to help students achieve their goals. For the lucky students who attended the panel, they received a workshop atmosphere rather than the standard question and answer format.
Kirkland set the tone by beginning the panel with an enthusiastic attitude, asking the back of the large audience, "I can't hear you, are you asleep?" The entire crowd yelled hello back. Kirkland used the moment to inform the students that they must be engaged and they must "show up for themselves" in order to succeed.
The workshop continued with interactive activities and individualized attention. Students went around the room revealing why they hadn't reached their goals yet and what was holding them back. Answers such as "fear," "time management," "focus," "inspiration," "networking skills" and so on filled the room. Suddenly, the room was an acquainted community with the same problem: how do we reach our goals?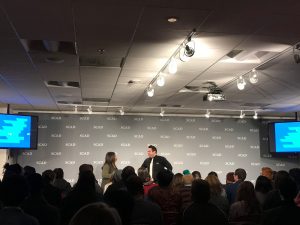 "I would like for you to forget the goal," Kirkland said. "I would like for you to instead, commit to the process of doing the work. Michael Jordan never showed up for practice as if it were practice, he showed up as if he was playing the game."
Kirkland informed the students that getting into the television business isn't as daunting as it may seem. In fact, the business needs more writers. Yet, students must put in the work. "Out of the thirty of you that stood up and said they wanted to be a television writer, about only three of you will actually do the work to get there," she said. "I hope you prove me wrong."
The workshop continued as it dove into the aspect of fear that accompanies every SCAD student as we pursue our goals. Kirkland urged students to do two things a week that scare them because "success happens when you get out of your comfort zone."
Networking is often a source of fear for students, but Kirkland advised the crowd to manage that fear in a controlled way by rehearsing a story to tell every person you network with. The story should consist of your name, education, something unique about yourself, your goal, what you're doing to pursue that goal and a question to ask that person. Give it a narrative arc to make it interesting, keep it short and simple (under two minutes) and make yourself memorable. Students were invited onstage to share their stories and were given firsthand constructive criticism by Kirkland on how to improve.
Kirkland herself was a networking opportunity for students at the event. She runs the Nickelodeon writers program that all students aiming to be television writers should apply to. "The Nickelodeon Writing Program offers emerging television writers from around the world a paid opportunity to develop their craft and launch their careers. While in the program, writers hone their skills, build a professional network and gain real-world experience in writers' rooms for our critically acclaimed live-action and animated shows."
For more information visit the writing program's website.