'Mozart in the Jungle' premieres fourth season at aTVfest
Season four of the musical comedy-drama will air Feb 16. but guests at aTVfest 2018 got a sneak peek.
by :
Arundhati Prasad
Award-winning TV show "Mozart in the Jungle" premiered its fourth season at SCADshow on Feb. 3 as part of SCAD's annual aTVfest.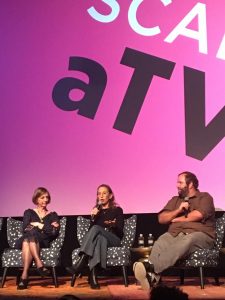 "Mozart in the Jungle" is an Amazon prime original that aired for the first time in 2014. A combination of comedy and drama, the show follows the journeys of maestro Rodrigo, the conductor of the New York Symphony Orchestra, and Hailey Rutledge, a young oboist and aspiring conductor. Based on the memoir by Blair Tindall, "Mozart in the Jungle: Sex, Drugs and Classical Music," the show stars Gael Garcia Bernal, Lola Kirke, Malcolm McDowell, Saffron Burrows, Hannah Dunne, Peter Vack and Bernadette Peters.
The event began with a musical performance that fit with the theme of the evening. Following the screening of the episode, producer/showrunner Will Graham, writing/supervising producer Susan Coyne, writing/supervising producer Sarah Walker and executive producer Caroline Baron participated in a Q&A session, led by Jim Halterman from TV Guide.
Graham talked about directing multiple episodes of the show and being closely involved in the production of the Prime original. "It's like being let into the coolest house in the world and being told not to burn it down," Graham said.
Both Graham and Coyne said they feel that the show is special because anything could happen to the characters and they are not bound by categories. The cast was asked about real-world female conductors and how they're viewed. "There is still a phenomenal barrier for women to become conductors. There are about 150 major orchestras in the world and only four of them are led by women," said Coyne. "But that's going to change now because of our show," said Baron.
Watch the fourth season of "Mozart in the Jungle" on Feb here.