'Alex, Inc.' is a laugh out loud sitcom worth seeing
A witty sitcom, 'Alex, Inc.' brings fresh ideas to the table
by :
The Connector
by Rebecca Williams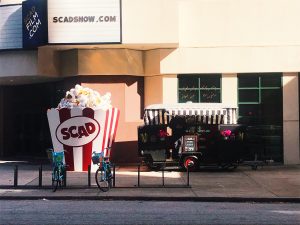 "Alex, Inc." is a fresh new show about an American dad. That may be a phrase you've seen attributed to almost every family show out there. However, "Alex, Inc." is actually something different.
The show is based off of a real  journalist turned entrepreneur, Alex Blumberg of Gimlet Media. Blumberg was a successful radio journalist on a show called "This American Life" until he quit his job to start a podcasting company.
The pilot of "Alex, Inc." stars Zach Braff and begins at the end of his character Alex's career as a radio journalist. Throughout the episode, we meet his brilliant and caring wife, Arunima "Rooni" Schuman, and his two adorable and funny children, Ben and Soraya. The characters also include his second cousin Eddie and Alex's obsessive producer Deirdre.
One of the many elements that make "Alex, Inc." a refreshing series to watch is its comedy. Writer Matt Tarses ("Scrubs")  does a good job of mixing comedy for adults and children that makes it appeal to many demographics.
Overall "Alex, Inc." is well executed and genuinely funny. Its appealing comedy, stellar cast and clever style make this a show worth checking out. Watch the series premiere on March 28.
Review overview
Summary
6.6"Alex Inc." is definitely a show we should all give a chance; what may look like an oversaturated premise is an actually an interesting watch.