Unusual accessories decorate the runway in Milan
by :
The Connector
by Mackenzie Lachey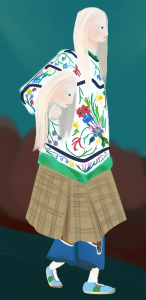 Milan fashion week kicked off Feb. 21, showcasing top designers' Fall/Winter 2018-2019 collections. The usual models hit the runway, including sisters Gigi and Bella Hadid. But even these superstars couldn't hold a candle to the real stars of the runway — the unusual accessories that had some losing their heads, literally.
Two heads were better than one at Gucci where models strutted the catwalk carrying replicas of their own heads. Yes, that's right, severed heads are now en vogue. Giving new meaning to the phrase heads will roll, Gucci's models stepped trance-like through an operating room, some with eerily realistic copies of their heads under arm.
The inspiration for the unnerving show, according to creative director Alessandro Michele, was a 1984 essay titled "A Cyborg Manifesto." The essay by Donna Haraway is a critique of identity politics. In the essay, Haraway suggests that we are the fusion of the technological with the biological, making us all cyborgs of sorts. The concept of the cyborg rejects the idea of rigid boundaries.
Heads weren't the only unusual accessory at Gucci. One model carried a baby dragon sending off some serious "Game of Thrones" vibes. There was also a third eye, snakes, chameleons, and one model with centaur horns, looking like he stepped on the runway straight out of Narnia.
Runway shows have been known to be over-the-top and outrageous at times, but was Gucci's show head-turning fashion or just plain creepy? Caroline Ruder, a second-year fashion graduate student, admits to the collection's lack of wearability but can appreciate the showmanship. "I actually enjoyed the heads," she said. "I think if you're going to put on a show then put on the dang show." In true "go big or go home" fashion, she enjoyed seeing something unique. "I appreciated that [the show] was original. I haven't seen anything like that before."
Gucci isn't the first luxury house to showcase unusual accessories. Chanel's Fall 2014 line, for example, featured supermarket themed bags. Luxury and fashion management second-year graduate student Sammantha Johnson thinks that creepy is here to stay. "[Gucci's] accessories are even weirder than Chanel's meat accessory purse," she said. "Creepy is in on the runway and I'm into it." Johnson attributes this phenomenon to designers' desire to make us feel something. "Designers are trying to create another emotion instead of excitement," she said. "I think they're trying to capture suspense. It's definitely weird, but I see the overall concept."
On the other side, if you're thinking fashion has gone to the dogs, you may be right. At Tod's, creative director Alessandra Facchinetti found the one thing that could get more likes on Instagram than Gigi Hadid was Gigi Hadid carrying a puppy. Following the Chinese zodiac calendar, it is the Year of the Dog, and Tod's is running with it. The Italian brand known for its luxury leather goods transformed the catwalk into a dog walk. Models sported cuddly puppies including a Boxer, Shiba Inu, Chihuahua, Maltese and Cavalier King Spaniel.
Whether you're feeling all the mother of dragons vibes or you're more into man's best friend, Milan fashion week has you covered. Non-humans of both the creepy and cuddly kind are taking over the runway. Will it be a fleeting trend? Only time will tell.