Obsessing over the royal wedding does more harm than good
by :
Madeline Lenahan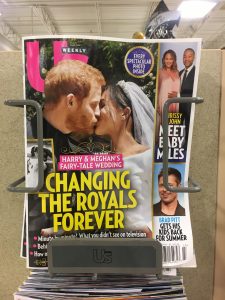 Many Americans waited with bated breath for the details of the royal engagement and royal wedding to be announced, tearing through rag magazines at the grocery store checkout and tuning into the broadcast of the ceremony on May 19. But are they actually concerned about Meghan, Duchess of Sussex and Harry, Duke of Sussex as individuals? Or do they care about the fantasy of the situation? Do they want to visualize themselves living in that fairy-tale land of castles and princesses? Well, that isn't exactly what Meghan and Harry go through on a daily basis. It's a rather stuffy foray of elaborate hats and waving, lots of waving. Kidding; I'm sure it's a lot more sophisticated than that. However, if surveyed, I bet a lot of people just want to be swept away by a handsome prince and taken on a unicorn ride through an enchanted forest.
The real reason I don't care about the royal wedding has little to do with this purportedly harmless delusion and more to do with the cost of it.
As a fourth-year fashion student at SCAD, I know that it puts me at odds with my major to say that I don't enjoy coverage of the royal wedding. It's a gratuitous display of wealth that, at this tense point in history, I cannot stand to watch. Knowing how many people — not just in the United States but around the world — are struggling to even afford health care and transportation let alone food, water and shelter, it makes me a bit queasy to learn how much the royal wedding cost: in excess of $45.8 million according to a Bride Book estimate. These costs went to security, cleaning statues and fixing roads, flower arrangements, two separate receptions, the wedding dress, etc. In all, Harry and Meghan's ceremony was over a thousand times more expensive than the average wedding.
Not only does the craze over the royals reinforce an obsolete form of government — the British monarchy exists as a formality at this point in 2018 — it also creates an orgy of fanfare that distracts the public from what they should be more concerned about. I'm curious if more Americans checked the news to see coverage of Meghan's dress and how long Clare Waight Keller took to design it and what flora was on the veil from each Commonwealth country instead of actually looking into the fact that Puerto Rico is still without power and how Texas' new ban on "sanctuary cities" keeps victims of sexual and domestic abuse from coming forward out of fear of deportation. These are just two of the countless problems that affect our country a lot more gravely than the royal wedding does. True, people may just want an escape, a distraction, something more pleasant to think about, but celebrity worship is idle worship and complacency kills.
There's nothing necessarily wrong with the royals and I have no personal feelings against Harry or Meghan. I think it's historically relevant that a woman of color is entering the royal family; clearly she received a lot of flak for being biracial. The royal wedding is just a pointless smorgasbord of an event that we perpetuate with our viewership — such an exorbitant display of money that's partially extracted from British taxpayers. When we allow ourselves to be distracted by the royal wedding, we perpetuate a harmful cycle of numbing ourselves to more relevant issues. When we not only pay attention to, but also support, people and events that needlessly flaunt wealth, we unwittingly enforce and accept to the notion of the smaller percent of people holding most of the world's wealth, keeping ourselves locked in a classist regime.