Exploring my favorite hiking spot in Woodstock, Georgia
by :
Caitlin Havens
If you are ever stuck in Georgia, one of the best things to do is find a nature trail to hike. I've been to many throughout my life, but my favorite one is Rope Mill Park in Woodstock. The park has a river that many people kayak down, and fish in. There are trails for mountain biking and walking and areas for groups of people to picnic.
My friend introduced the park to me when I was 16-years-old. For a good year, I had no idea there was an actual trail for walking, I thought it was just for mountain biking. I would walk on the sidewalk at the front of the park that only took me a quarter of a mile down. Now, don't get me wrong, that walk is interesting too. There are tiny areas of land that take you in closer to the water, almost like a tiny beach just for you. That was one of my favorite places. It was easy to escape from the world and just be alone for a little while when I was out there.
During the summer, after my sophomore year of high school, I discovered the walking trail. This was a huge upgrade from the sidewalk and if I thought that walk was cool, I was in for a surprise. At the beginning of the trail, there is pavement in one area and the rest has a flat ground of dirt. The further down you go, the more jagged the ground becomes.
One of my favorite areas is where the walkway thins while big rocks and the roots of trees come out from under the dirt. There are other areas where the trail is wide and flat, easy to maneuver. Now that I know the trail very well, the sudden changes don't bother me. When going for my first time, though, I thought death was in my near future.
You still follow the river on this walk and, if the water is low enough, there are large rocks that are easy to walk on and act as a different kind of tiny beach. Last summer, the water was low enough and I spent a lot of time there. The water never came up to where I was, but it crashed against the bottom of the rocks and made for good white noise. This summer, the water is too high in that area so I had to find a new spot.
I walked my typical route, overlapping trees turned to the summer sky and I was walking in a large, open field. A tree had fallen down and the grass was overgrown, making it clear the trail wasn't being taken care of, but it was still walkable. Halfway down the dirt road, I saw the train tracks that stand high above the ground. Two-thirds of the way down, I saw the graffiti wall that has different art every time I come back. At this point, I would usually turn around and go back to my car but I felt like I wasn't out there long enough so I kept going.
I went up a series of hills and I was brought to the train tracks that run through the park. These tracks have been the site of many photo shoots, and long talks about life with some of my best friends. I remember one time, my friend and I were having one of those deep conversations and we were walking at the middle of the bridge of the tracks. We had no idea the tracks were still active, but we soon found out. By the time we realized a train was coming we were maybe three to four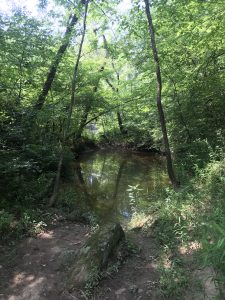 hundred feet from being hit.  So, if you visit here, please be careful.
After walking along the tracks for a while, I decided to turn around and go back to my car. Once I got back down to the graffiti wall, something was telling me to go back. I did and I was happy I did because I found a new spot.
Other people had clearly found the spot before me because there were empty bottles and cans of Sprite and Dasani scattering the ground. No one was there when I found it, though, which was all that mattered to me. There were three different areas of water, my favorite being a tiny pond looking divot. But the further I went, the more space I found. It would be easy to spend all day in this spot but I spent 20 minutes there before other people showed up and my area was taken over. I was glad to have gotten the 20 minutes to myself, it was all I really needed.
Georgia has many trails for people to go on, and walking on them is one of the best summer pastimes. If you are in the state and need something to do, find a trail and see what you can experience. Explore different areas and clear your mind. If you are in the area of Woodstock, check out Rope Mill and maybe even get some ice cream afterwards.