SCAD alumna Kickstarts a horror comic anthology
by :
Masha Zhdanova
Are you a fan of small-town horror stories and short comics? You maybe interested in "Recondite Hill: Things to See," a comics anthology curated by SCAD aluma Steph Vinke. Vinke, who graduated with a B.F.A in sequential art earlier this year, co-edited the project with Jaci Menard.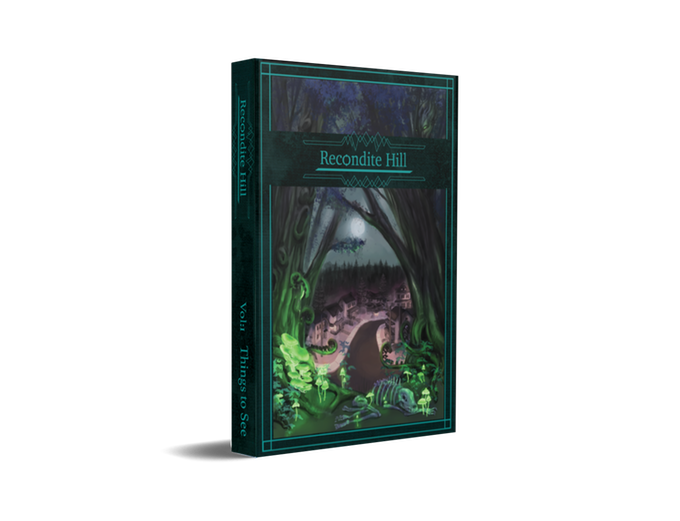 The Connector: How long did it take you to put together the anthology?
Vinke: I've been working on this anthology since late 2016, and really got things together spring 2017 when we had the open call for applicants. I've been working on it with my co-editor since then.
The Connector: How did you and your co-editor split up the work?
Vinke: There's three of us actually, two editors and an assistant editor (Jaci Menard, myself, and Sofia Reyes). Since this is new for all of us we split the work as evenly as we could. Jaci was more comfortable working on writing so she looked over the scripts for errors and made sure all the typos were caught early on. Whereas Sofia and I looked over all the thumbnails and made sure things made sense from the art side of things.
After the first stage of major edits though (scripts and thumbnails) Jaci and I did the main work on the project, getting the Kickstarter together, looking into the logistics of getting the book printed and doing the budgeting to make sure we could pay everyone fairly.
This we split between us based on who was available and which of us would be better suited for the task — Jaci is better with numbers so she took the accounting side of things, and I spoke with printers and put together the advertisements.
The Connector: What about the comics in the anthology? What were you looking for from your contributors when you opened applications, and what did you end up getting?
Vinke: When we opened applications for "Recondite Hill," we weren't sure what kind of response we we're going to get. I had spoken of the anthology first to fellow sequential arts students to gague interest in the project, though when we actually opened the applications we we're really surprised with how many people applied — especially since this is our first publication.
For specifics on content, we were looking for horror comics that dealt with the premise of the town "Recondite Hill," and the strange cryptid-like creatures that lurked within it. We got a lot of replies, honestly way more than we thought we would be — upwards of 60 people applied to the anthology. Which was really tough moving forward honestly since we saw a ton of awesome concepts coming out of the prompt we gave. It really helped that the process of going through the applications was done by three people since we got a good mix of horror stories that range from very atmospheric and eerie to more action packed and gory.
The Connector: What was the most challenging part of this project?
Vinke: Well, all of it was challenging, though in different ways. I think the hardest part of this project is actually what we're doing now, which is gathering support for the crowd funding. It's actually a whole lot of work to drum up support for a project, especially considering how in reality we really only have to sell 200 copies of our book to fund. There's no telling how many people actually see the project and whether or not we're reaching or just flat out missing potential backers because of something we didn't think to look into. It's pretty stressful really.
The Connector: What advice do you have for anyone thinking of publishing a comics anthology in the future?
Vinke: Plan things out! Make sure to look into other anthologies and comics that have funded, and those that didn't. You'd be surprised how much you can learn from other Kickstarters if you dig for information. I would also recommend checking out "How to Run a Kickstarter" by Iron Spike if you're seriously interested in running an anthology and hoping to kickstart/crowdfund the project. Also email other content creators you've seen get their projects funded, they're usually cool with giving you a couple of nuggets of advice in regards to this sort of thing.
"Recondite Hill" contains 110 pages of black-and-white comics artwork, and features a variety of new comic talents and SCAD alumni Hanna Schroy, Ally Schroy and Raeonda Ramoutar.  The Kickstarter campaign page describes it as "in essence, a love letter to those weird local stories about monster sightings, unexplainable events and forbidden places." Check out the Kickstarter here.