SCAD AnimationFest highlights: Day 3
by :
The Connector
by Adreon Patterson
Even though I chose to purse writing for my M.F.A., my first love has always been animation. From the Disney Renaissance to MTV to Saturday mornings, I lived, ate and breathed any and everything animation to the point of receiving a B.F.A. in the field. So SCAD Atlanta's AnimationFest fit perfectly in my pop culture wheelhouse. Having attended AnimationFest's first year, I anticipated this one to be just as exciting.
Saturday, Sept. 29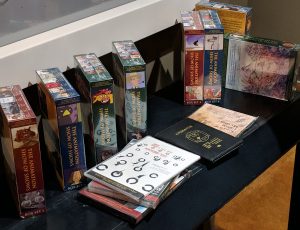 After a busy day of work, I decided to have some last-minute fun and partake in the last event of the festival — "The 20th Annual Animation Show of Shows." This program has been a favorite of mine since my undergraduate days at SCAD. Unlike the festival's previous days, the attendees weren't packed like sardines in the lobby as we waited for the doors to open. As the double door opened to the auditorium, everyone wandered in and took their seats. I sat in the middle to get the best view of the presentation. After some waiting, the presentation's curator Ron Diamond spoke on his selection process for choosing a film from around the world. Diamond's ideology could be felt for the next 2 hours as film after film pushed the boundaries of animation. The most notable piece was "Polaris" by Hikari Toriumi which spoke on the love between mother and child.
During the Q&A with Professor Christina Maloney, Diamond spoke on the common thread amongst all the films when he said, "These films touch on the art and where we come from as individuals. I hope it creates a better sense of empathy."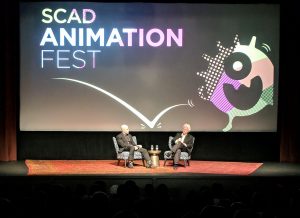 Diamond stuck around after to talk with some students. I wandered into the lobby to find some attendees ogling some of his DVD compilations. The screening was a nice endnote for a festival celebrating the art of animation.
I cherished my time going to AnimationFest. Every panel, presentation and screening fed my need as an animation professional and lover. Even though the festival was still facing some growing pains, it was an amazing experience that I look forward to attending next year.