aTVfest panel: 'How to Get Ahead in TV'
by :
The Connector
by Lisa Shore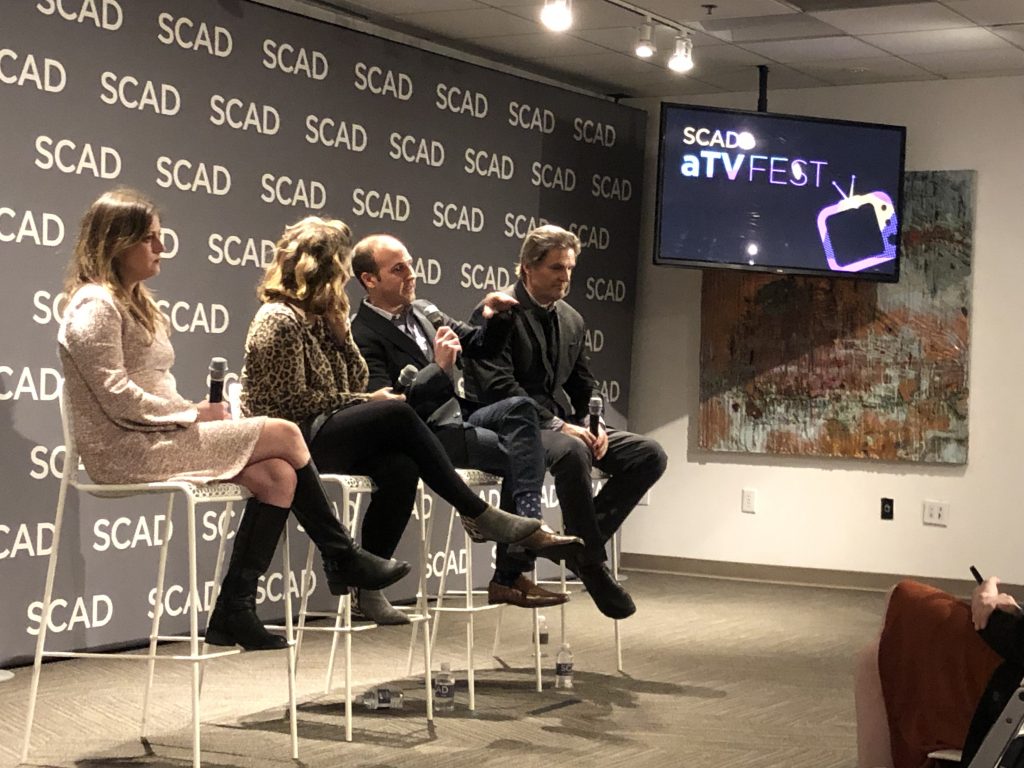 The aTVfest panel "How to Get Ahead" provided students with honest advice and frank discussion with top industry experts. Echo Lake Entertainment's Executive Vice President of Television Chris Davis, voice-over artist Alexa Kahn and talent manager and producer of Echo Lake Entertainment Lauren Williams spent an hour giving real advice to aspiring actors, writers and producers about the realities of working in a business that has a reputation for being fake. 
You may not recognize voice over talent Alexa Kahn lent her voice to beloved animated characters Hyrax from "Ice Age: Continental Drift" and "Troll's" Tug Duluth. Kahn's advice to the standing-room-only crowd was to be patient with your career and yourself.  She shared her own experience of the lengthy time it took to sign with a talent agency and the additional year after that before she was hired for her first job. 
"Don't compare yourself to other people," she said about career trajectory. "Figure out who you are. Take care of yourself." Emphasizing the importance of self-care and finding "what feeds your soul, whether you get the part or not." 
Above all else, she said speaking to the artists in the audience, "enjoy the process."
Williams and Davis agreed. They echoed Kahn's advice to nurture the heart and not just the fire.  They reinforced that while the end game to entertainment is to give joy to audiences everywhere, the truth is that the business of film and television is one of rejection. That's why it's critical for the artist, particularly in the early stages of a career, to seek out the joy in activities outside work. The artist fills the audience with joy, but it's up to the artist to find what fills their hearts and minds. 
Williams brought an intelligent and refreshingly honest take to the panel.  A former talent agent with ICM Partners, Williams exuded professional mindfulness any client would welcome in a manager.  It was during the Q&A session that followed the discussion when a recent SCAD alumna and aspiring comedian asked Williams how to get a manager to come to see her performance. Williams answered, "Does your school have a showcase?" Bottom line: a blind email from an unknown contact has an extremely low chance of being read and an even lower chance of a response. Same thing goes for unsolicited scripts, treatments, audition tapes, etc. Not simply because she or TV head Davis are too good, busy or uninterested.  She and Davis then explained the legality of that process.
Davis said he fell into his first job as an assistant on a major network. Once he got his lucky foot in the door, he worked hard and smart to stay and succeed. He advised everyone to do the same. He added that showing up early, doing your job well and being a nice person will benefit you in the long run. Film and television student Karen Lee liked the panel and was relieved to learn that "niceness isn't a flaw in this business." 
Other advice for aspiring artists? Build your resume in Georgia. Find great representation in Georgia and search your soul for the answer to this question: Are you in this business because there's nothing else you can do? If there's something else you can do, go do it. If not, you just got some solid advice from industry professionals who got ahead in Hollywood.