The GamingFest Gameplay
by :
The Connector
by Adreon Patterson
My relationship with gaming began on my fourth birthday, the day my father surprised me with the original NES. From Mortal Combat to Sonic and from Mario to Zelda, my 90s childhood (and many others') was founded on these games. I lived, ate, and breathed gaming. SCAD Atlanta's annual SCAD Gaming Fest was a perfect fit for my tamed childish obsession. Having missed the inaugural year, I was even more hyped to partake in this year's festivities.
"Inside Out" Screening
In order to get some work-life balance, I volunteered to cover some events for GamingFest. The one I was most excited for was the screening of Disney-Pixar's "Inside Out." Having watched the film in the convenience of my home, I was excited to watch the film with other fans and I must admit hearing Oscar-nominated screenwriter Meg LeFauve speak on her contributions to the film was something I couldn't pass on. As soon as the Mainstage doors opened, attendees waiting in a crowded lounge flooded into the theatre where after a brief waiting period, the audience played a SCAD trivia game. Soon, President Paula Wallace came out and gave an uplifting, emotional speech about the university before presenting Blizzard Entertainment's Harrison Park, a notable SCAD alum, as one of SCAD's 40th anniversary honorees.
Once the film started, a hush fell over the room as the audience became immersed in the push-and-pull relationship between Joy and Sadness. Much like AnimationFest's "Mulan" screening, it was a very different experience watching the film in a crowd of like-minded individuals. The audience was greeted by the associate chair film and television department, Quinlan Orear after the screening and he introduced LeFauve to the audience.
Orear also led a Q&A session with LeFauve primarily focused on her career, writing process and time with Disney-Pixar. Eventually, the audience asked LeFauve a handful of questions. This was my moment to shine. I raised my hand to pose a question on the different processes of writing between live-action and animation.
LeFauve spoke on how writing for animation influenced her live-action work, stating, "You can't just fix the top, you gotta go all the way down to the bottom." She added, "Of course certain sequences come back in, but they may not be in the same way or purpose. That's a really big thing I learned from animation that I took to live-action."
After the talk, I was able to speak with LeFauve further about breaking into the writing for animation. Our conversation was very insightful and encouraging.
The Wild World of Writing for Games
Another favorite from these events for me was the "Wild World of Writing for Games" panel. As an up-and-coming screenwriter, I wanted more insight into writing for games from an insider perspective. I arrived early and made my way to SCADshow hoping to get a prime seat. After the usual security check and lounge purgatory, the audience made their way into Mainstage. SCADFilm executive director Leigh Seaman came on stage fter a short waiting period and spoke of the program before introducing veteran writer Micah Wright and former Telltale Games writers Pierre Shorette and Laura Jacqmin.
During the panel, Wright discussed his beginnings as a game writer and founding the Video Game Caucus within the Writers' Guild. Shorette and Jacqmin spoke on their experience at the now-defunct Telltale. Hearing them speak on various aspects of narrative writing and their experiences in gaming was insightful and thought-provoking, to say the least. There were moments where the panelists spoke the truth about the current disagreement between the WGA and ATA and the future of screenwriting in entertainment.
Eventually, the panel was opened to the audience for Q&A. When speaking on collaboration, Jacqmin dropped this gem about her television and gaming experience, "It's an amazing release of the burden… to not have to be the one to fix all the problems."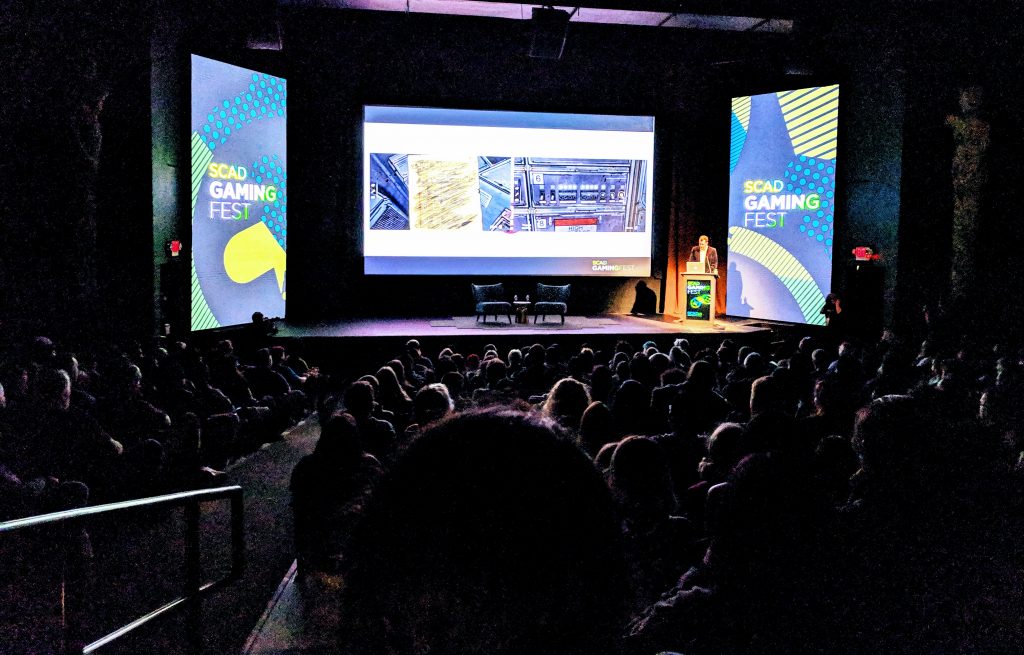 The experience was extra special as I got to talk with Jacqmin after the panel about her ability to switch between genres.
Producing eSports with Skillshot Media
After the writing panel, I took a break and then made my way back to SCADshow. I navigated the crowded lobby as I made my way to Mainstage and found a prime seat for film and photography before the panel began. This panel wasn't just another assignment as I wanted to support a fellow SCAD writing alum Kat De Shields-Moon. I knew this was a big moment for her as Skillshot was a festival partner.
The panel was introduced with De Shields-Moon, Graham "Hinduman" Hadfield and Brad Weir taking their seats. They played a video highlighting their work at Skillshot before speaking on the specific niches within the organization. Weir gave a behind-the-scenes look at his life as a broadcast designer while Hadfield spoke on his role as eSports manager and caster. De Shields-Moon spoke on the ins and outs of public relations and outreach at the organization.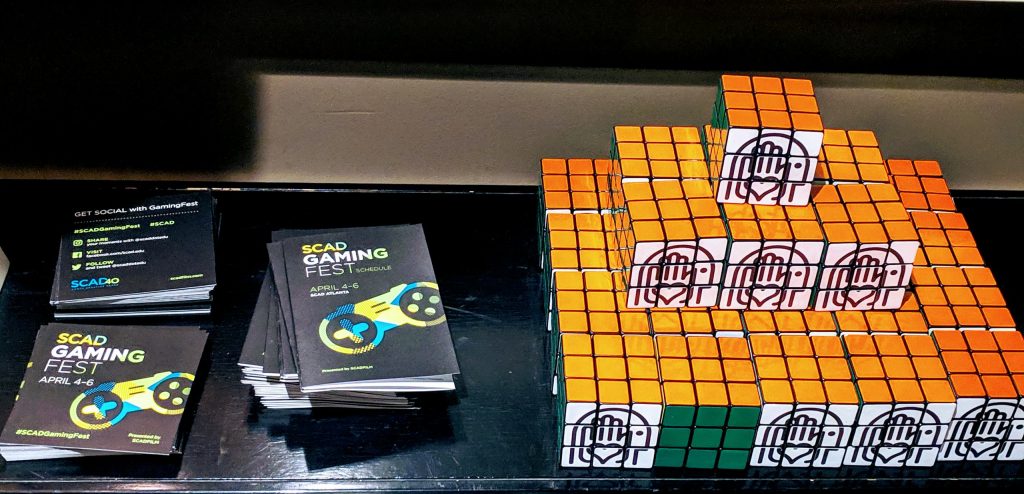 After their talk, there was a Q&A session between the panelists and the audience lead by Seaman. Even though the conversation was dominated by Hadfield's colorful talk, each panelist got to explain their aspects within Skillshot.
When speaking on the caster side of Skillshot, Hadfield mentioned, "You have to find what's right for you."
My time at Gaming Fest was informative and fun-filled. Over the course of a few days, I was able to gain insight into an industry I had only look at from a casual fan. Being my last experience as a SCAD student, I found the festival to be refreshing and genuine.