Laika goes light with 'Missing Link'
by :
Mikael Trench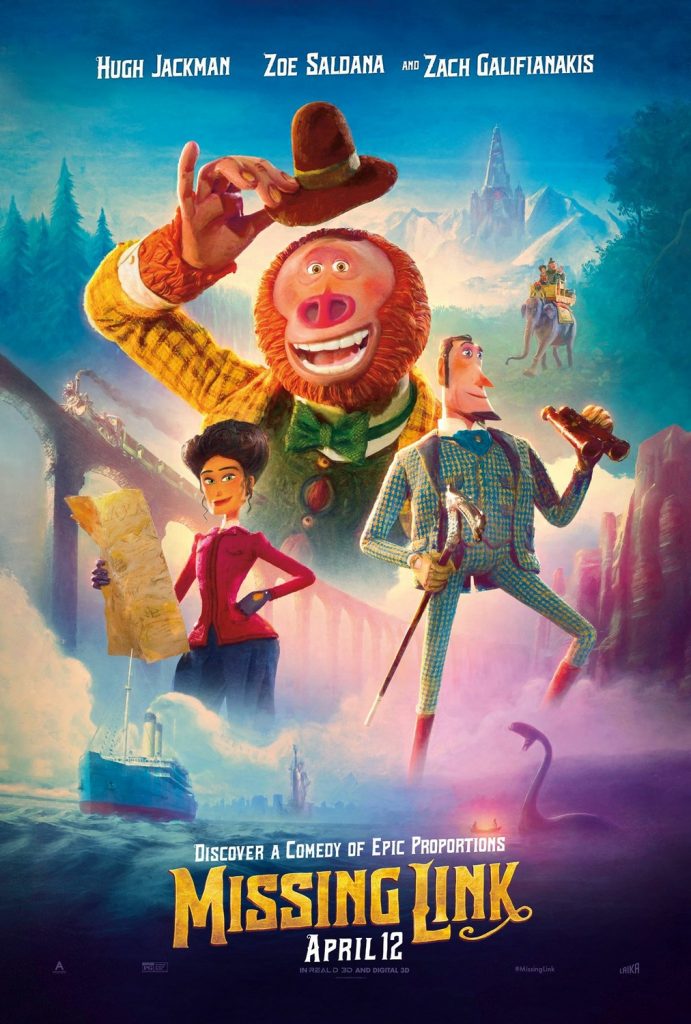 On the weekend of April 14, Laika, the stop motion powerhouse behind such films as "Coraline," "ParaNorman" and "Kubo and the Two Strings" released their newest grand adventure, "Missing Link." With its star-studded cast and beautifully created animations, could this lighter foray in the studio's catalogue still hit home as well as their more brooding productions?
The film tells the story of 19th century European adventurer Sir Lionel Frost, a man who yearns to be part of a society of great discoverers who constantly look down on him. Frost believes he has found the answers to his problems when he comes across a letter leading him to the existence of a Sasquatch, whose name is Susan. Frost makes a deal with the ape-like beast to help him find his possible family — a legendary kingdom of Yetis in the Himalayas. Accompanied by Frost's former lover Adelina, they trek their way through a variety of dangers to reach their destination.
As should be expected at this point from Laika, "Missing Link" is a true feast for the eyes. It may be difficult to imagine how the studio could out do themselves after "Kubo," but this film provides the answer, being at the very least, on par with that film from a visual standpoint. The craft and attention to detail in their meticulous stop-motion animations, the expressive and detailed character animation and the playful designs of the sets is all wonderful to behold on the big screen. On top of this, the general art direction is simply fantastic. With the film being much lighter in tone than previous Laika films, there is a much more saturated color palette and lively shape language that gives this world its own distinct identity. The blending between the stop motion and computer animation is practically seamless here, arguably even more so than seen in "Kubo."
On the narrative side of things, the film is mediocre. The movie wants to keep the adventurous spirit alive through its extensive environment changes and travel sequences, but the pacing doesn't always keep up with this goal. The film struggles to allow its audience to take in and really appreciate certain points, leaving some of the lush atmosphere of these environments falling flat. With that said, the quick pace does benefit the film in some moments; a chase scene on a ship in particular used its environment in some very creative ways.
There are also some storytelling issues that keep the film from truly hitting the emotions it aims to. The backstory of many of these characters are sloppily told through exposition as opposed to visual storytelling, something very unnatural for Laika. This rushed feeling also extends to some of the thematic weight. There is a good message at the core about finding acceptance where you least expect it, but the internalization of this for our characters felt stilted and unnatural in execution.
With all this out of the way, there is still plenty to enjoy about the film besides its animation. The characters, despite a lack of solid development, are fun. Frost's intellectual way of expressing himself, Adelina's fiery personality and Susan's literal viewpoint of the world allows for some great back-and-forth and is where the comedy shines the most. The main villain may be lacking, but his sidekick, Willard Stenk, was a good deal of fun to watch. The voice acting for all these characters was also top notch, with global stars like Hugh Jackman, Zach Galifianakis, Zoe Saldana and more bringing their characters to exciting life.
At the end, "Missing Link" may not be one of Laika's strongest works, but it still has its merits as quality family entertainment. Despite taking a more conventional route, the film still speaks to the adventurer inside all of us and is sure to bring entertainment to many.
Review overview
Summary
7.7"Missing Link" sees Laika going in a new light-hearted direction that may not be their best, but still is a feast for the eyes with plenty of heart.