Hordes of 'Walking Dead' fans attend Walker Stalker Con
by :
Emma Dakin
More than 50,000 fans of the television show "The Walking Dead" attended the Walker Stalker convention at the Georgia World Congress Center Oct. 28-30.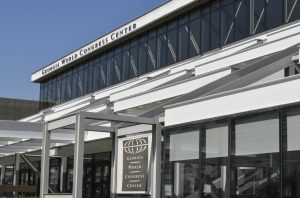 Walker Stalker Con, founded in 2013 by James Frazier and Eric Nordoff, is an annual, multi-day fan experience featuring appearances by cast members, panel discussions, competitions, activities and a multitude of vendors.
Kelly Hopkins, a resident of Roswell, said that her favorite part about the convention is getting to meet the actors and interact with them.
"It feels like just about everyone is here, all the cast, past and present," said Hopkins. "They're all really nice, like you can tell they really want to be here and meet the fans."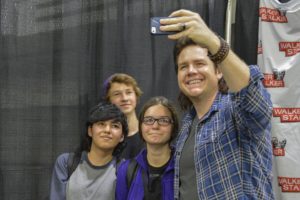 More than 30 cast members from the show were in attendance, including Andrew Lincoln who plays the lead character of Rick Grimes, as well as Norman Reedus, Jeffrey Dean Morgan, Danai Gurira and Melissa McBride. Cast members from "Fear the Walking Dead," "Sons of Anarchy" and "American Horror Story" were also present.
The cast participated in various panel discussions in which they covered themes from the show and character relationships. They also answered questions from the audience. The most attended panel featured Jeffery Dean Morgan discussing his character, Negan, the newest villain on the show.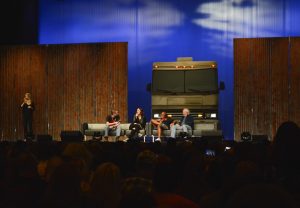 Negan was also a popular choice for cosplay at the convention, with many fans dressing up as Morgan's character. According to Cole Shuer, a resident of Atlanta, who was attending the convention for the second time, seeing all the different cosplays is the best part of the event.
"Some people really go all out," said Shuer. "Some of these costumes take a lot of effort and it's awesome to see what people can do. I also feel like it says something about the fan, as far as who they choose to cosplay as, and that's really cool to see."
Shuer himself chose Michael Cudlitz' character, Abraham, as his inspiration, wearing Army camo pants with boots and a tank top stained with fake blood.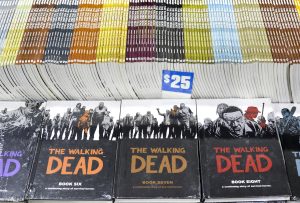 In addition to panels and cosplay, the convention also included more than 120 different vendors and exhibitors. Artwork, comic, books, toys and apparel were available for purchase. Guests could also participate in "The Walking Dead Experience," a 30-minute immersive interaction that took guests through an interactive zombie adventure.
Given that "The Walking Dead" is filmed primarily in Georgia, the Atlanta Walker Stalker Con is the largest zombie-themed convention in the U.S., though the event takes places in several other cities over the course of the year. Currently, the next Walker Stalker Con is scheduled for Friday, Dec. 2 and Saturday, Dec. 3 at the New Jersey Convention and Exposition Center.
For more information about Walker Stalker Con, visit www.walkerstalkercon.com.