Artlanta weekly: the inside scoop on everything arts, entertainment and Atlanta
by :
Molly Morris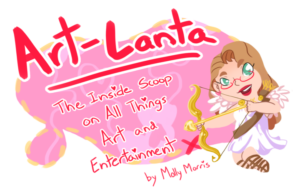 Feb. 10
Fernbank Museum of Natural History
767 Clifton Rd NE
Fernbank After Dark offers a variety of unique after-hours experiences, including evening access to Museum exhibitions, live music, full bars, tapas menus, films in the giant screen theater, and all-new science demonstrations and encounters. Activities and science themes will change regularly along with a variety of fun and immersive programming.
Feb. 11
Noon to 4 p.m.
Big Sky Buckhead
3201 Cains Hill Pl NW
Cupid's is a "brief" fun-run that takes place in the middle of a BIG party. That's right: party, run (a mile-ish, and at your own pace), party—all in benefit of Children's Tumor Foundation, and all to #EndNF. Undies are encouraged, but it may not be for everyone – so whether you start a team for your friends, join a team or run solo, just come out, have a blast and raise some money for NF research!
Feb. 11
Center For Puppetry Arts
1404 Spring St. NW
Celebrate Valentine's Day at the Center for Puppetry Arts! Learn about puppet couples throughout history in our museum exhibits, enjoy beer and wine from our cash bar, and enjoy other fun puppet-themed activities throughout the evening.
Feb. 11
7 p.m. – 11 p.m.
Atlanta Botanical Garden
1345 Piedmont Ave NE
Enjoy an elegant evening of music, dancing, cocktails, desserts and orchids at the most romantic spot in Atlanta. Take a stroll through the tropical conservatories, sample heart-melting treats from the city's top caterers, sip specialty cocktails from cash bars, dance to live music!
Feb. 11 and 12
2:30 to 4:30 p.m.
Historic Oakland Cemetery
248 Oakland Ave
Perfect for lovers, families, and friends, Love Stories of Oakland is a limited-time engagement! In celebration of Valentine's Day, enjoy more than 25 tour stops through Oakland's Victorian garden cemetery as we recount the loves, lives, and losses of Atlantans of days past. Love Stories of Oakland also examines the symbolism of love and devotion found on monuments, headstones, and mausoleums throughout the grounds.
Wednesday, Jan. 18 – Sunday, Feb. 12
Alliance Theatre
1280 Peachtree Street
Troubadour is a feel-good romantic comedy musical that tells the story of Joe, Inez and Izzy as Joe attempts to enter the country music world in the footsteps of his legendary musician father. With music by Sugarland's Kristian Bush, this world premiere production is not to be missed.
Through Saturday, Feb. 14
Atlantic Station
231 18th Street NW
Show off your ice skills this season at Skate Atlantic Station, Atlanta's largest outdoor ice skating rink! The ice officially sticks around through Valentine's Day and is a great way to get out for a date or study break.
Through Feb. 15
Cobb Energy Performing Arts Centre
2800 Cobb Galleria Parkway
The Atlanta Jewish Film Festival (AJFF) is a cinematic exploration of Jewish experience — Jewish culture and history, life in Israel, and the work of Jewish artists — particularly where these stories intersect with other communities both here in Atlanta and around the world. Seeking to use the power of film to both entertain and educate, AJFF challenges conventional perspectives on complex and challenging issues facing the Jewish and global communities.