And the Oscar goes to…A&E's 2017 Oscar picks
by :
The Connector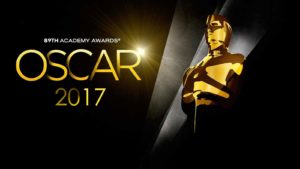 By Mikael Trench
Last year proved itself to be quite an eventful one for entertainment and the movies we have received during this time are the ultimate example of that. The films from 2016 reflected the recent changes our world has gone through, hitting hard topics and bringing their own artistic twists to make them stand out. From women's equality issues in films such as "Ghostbusters" and "Hidden Figures"  to questionable politics in films such as "Zootopia" and, most predominantly, racial prejudice and equality in films such as "Birth of a Nation," "Race," "Fences" and "13th." This doesn't even begin to describe how 2016 was also an important year for revitalizing genres such as musicals like "Moana" and "La La Land," and for taking risks with genres mostly associated with family films such as the R-rated superhero film "Deadpool" and the R-rated animated film "Sausage Party."
Now with the official nominations for the 2017 Academy Awards having been released on January 23, it's time for us to look at which films will likely walk away with that coveted golden statue for Best Lead Actor, Best Lead Actress and Best Picture and which ones may have been overlooked.
Best Actor in a Leading Role:
Casey Affleck- "Manchester by the Sea"
Andrew Garfield- "Hacksaw Ridge"
Ryan Gosling- "La La Land"
Viggo Mortensen- "Captain Fantastic"
Denzel Washington- "Fences"
This year has proven to be one full of spectacular acting chops. From Casey Affleck's surprisingly subdued delivery in "Manchester" to Denzel Washington's unpredictably complex performance in "Fences," this has been a year full of talent. In this category, I would have to say that the main underdog here would have to be Mortensen in "Captain Fantastic." Despite his realistic delivery, the performances from the other actors have been praised much more from critics, giving them an edge in this category. Gosling also did a fantastic job giving life to this very passionate role, however, our money would have to go to Andrew Garfield or Casey Affleck, given the massive acclaim their films have been given based on their performances alone.
Best Actress in a Leading Role:
Isabelle Huppert- "Elle"
Ruth Negga- "Loving"
Natalie Portman- "Jackie"
Emma Stone- "La La Land"
Meryl Streep- "Florence Foster Jenkins"
The category for Best Actress is, again, a very hard category to choose from, given the strong performances pulled off by all these women and the massive collection of accolades received by them for their work. Huppert, in particular, has really been garnering quite the number of accolades from all over the map. Similarly, Natalie Portman has also proven to have quite the strong year with her performance in "Jackie," as did Ruth Negga in "Loving." Despite Streep's well-executed performance in "Florence," this award season has seemed less kind to her in terms of award wins. We see this award going to either Portman, Negga or Stone.
Best Picture:
"Arrival"
"Fences"
"Hacksaw Ridge"
"Hell or High Water"
"Hidden Figures"
"La La Land"
"Lion"
"Manchester by the Sea"
"Moonlight"
The biggest award of the night has quite the selection this year. Right from the start, this year's selection seems slightly more skewed in terms of likely winners. Some of these films, such as "Arrival," "Hell or High Water" and "Lion" have received very little this award season in terms of Best Film awards and it is unlikely that the Academy would ultimately vote for a sci-fi film such as "Arrival" to be the big winner.  "Fences" and "Hidden Figures" have each won a Best Film award from other award ceremonies and it can be argued that the Academy may have added them to make up for the criticism they received last year for their lack of diversity. And while "Hacksaw" and "Manchester" have garnered an equal amount of Best Film awards from other award ceremonies, the true rivalry seems like it's going to be between "La La Land" and "Moonlight." The two films have literally received dozens of awards in the Best Film category at other ceremonies, and with these two having the most Oscar nominations out of all other films from this year, it looks like the competition will be quite heated.
Other Categories
In the category of Best Supporting Actor, we expect to see Jeff Bridges from "Hell or High Water" take home the gold. On the other end, Viola Davis from "Fences" has been killing the award season in the Supporting Actress category and is likely to take the award in this category from the Academy. Damien Chazelle, who already received massive acclaim for his work on 2014s "Whiplash," is likely to get the award for Best Director this year for his refreshing direction on "La La Land." In the Best Animated Feature category, it is a tough toss up between "Zootopia" and "Kubo and the "Two Strings," given that "Kubo" has received more Best Animated Feature awards than any other this year, yet animation fans know that the Academy almost always chooses Disney movies regardless (and the fact that both "Zootopia" and "Moana" have been nominated for this category make the odds stacked up against "Kubo" even more).
This Year's Oscar Snubs
While this year seems to have had its fair share of surprises, there have also been a good amount of snubs. Here are a list of some of them and the awards they should have been nominated for:
"Nice Guys"- Best Original Screenplay, Best Director (Shane Black), Best Supporting Actor (Russell Crowe)
"The Birth of a Nation"- Best Director (Nate Parker), Best Actor (Nate Parker), Best Cinematography
"Silence"- Best Director (Martin Scorsese), Best Picture
"Deadpool"- Best Actor (Ryan Reynolds), Best Adapted Screenplay
"Hidden Figures"- Best Supporting Actress (Janelle Monae)
"Arrival"-Best Actress (Amy Adams)
"Finding Dory"- Best Animated Feature
So how do you think we did? What were your predictions? Be sure to find out February 26.