by Molly Morris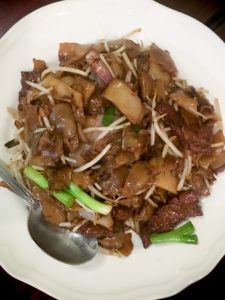 I discovered Mamak about a year ago when I was fighting the boredom of my "usuals" on Buford Highway. Mamak is a hole-in-the-wall restaurant in one of the many shopping centers of the Doraville area. This little delight has quickly been added to my list of "usuals," I have yet to be bored due to their extensive and slightly mysterious menu.  
The word "mamak" is linked to a few different aspects of eastern culture: a gang active in Malaysia operating since the 1990s, and a dish commonly prepared in Malaysia, Singapore and Indonesia. The root of the word means "kind and compassionate mother," which I think is the most fitting interpretation of the food that's served by this family owned business.
When I go to Mamak, I always take a friend (or three). The prices are reasonable and the servings are huge, so we like to go all-in and approach the meal family style. I would really suggest this plan of attack because you get to taste more from their massive menu. Between the two of us, we ordered four dishes, which turned into full bellies and two leftover meals.
First, they brought out the Beef Chow Ho Fun and a large bowl of rice, which comes standard with every meal. This is my favorite staple at Mamak. Flat, savory noodles stick together in a garlic brown sauce, mixed with tender beef, scallions, scrambled egg and bean sprouts. If you're imagining a dirty pad thai, you're close.
Next up was the Rendang Beef. This was my friend's choice, and much spicier than I intended. Flat slabs of beef are coated in a thick, curry and coconut milk sauce. There is almost more sauce than there is beef. The sauce pairs nicely with the mellow flavor of rice when the beef is gone. While I kept grabbing for my water, I still couldn't get enough of this unique dish.
The next two dishes were the Salt and Pepper Squid, which is a lightly battered and fried seafood dish dusted with thick grains of salt, pepper and garlic, and the Nasi Lemak. The Nasi Lemak is a Mamak favorite made from chicken or spare ribs served over fragrant coconut rice. These two delights helped calm my tongue from the Rendang Beef, which I'm sure you'll have a much easier time with (I'm an amateur when it comes to spice tolerance).
Wondering what else to consider from the menu? A couple others that are tried and true (by me and many others around Atlanta) are the Hainanese Chicken, Hokkien Lor Mee and the Red Bean Ice for dessert. This menu is definitely satisfying for the more explorative, adventurous foodie, but if you're curious and want to set aside the ramen for a night, I can guarantee you won't be disappointed.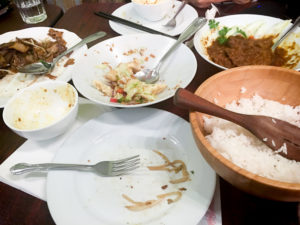 I cannot sing Mamak's praises enough. In just the short amount of time they've been open, they've won recognition with Creative Loafing and made Atlanta Magazine's 50 Best Restaurants list. While some of the food is outside my comfort zone, I never leave feeling disappointed or hungry. This restaurant has given me the chance to develop my palate further, and gain a deeper understanding of food from around the world. Mamak has curated the most genuine celebration of the Malay flavors and their roots, creating a diamond in the rough among all that surrounds them.
If you'd like to try out this restaurant and their culinary delights, you can visit them at 5150 Buford Hwy NE A-170, Doraville, from 11 a.m to 10 p.m. every day of the week except Thursdays when they are closed.

SCAD Atlanta students participated in the 11th annual Generate Oct. 5-7. The event brought together students from a [...]

The 11th annual Generate is almost here, a time for all creatives to put their energies together. The 24-hour, [...]

by Ivy Bufford Creating art is difficult enough on its own but for those with disabilities, it can seem downright [...]