Earth Day celebration teaches SCAD Atlanta community about environment
by :
Tyler Spinosa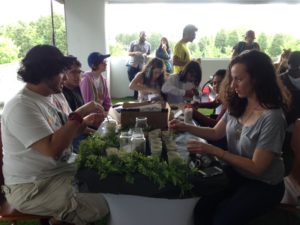 SCAD Atlanta students and faculty celebrated Earth Day at the Footprint Earth Day Fair at SCADpad April 21.
The event, organized by the Student Green Initiative (SGI), was an opportunity to learn about the environment while enjoying a variety of activities and refreshments.
The event offered live music from the Student Musician's Club, an organic smoothie bar and free King of Pops popsicles to beat the heat. Large screens displayed posters made by student illustrators and graphic designers for the event to support the cause.
The Student Green Initiative organized several activities that fit with the Earth Day theme. These included "Hatch a Plant," where volunteers helped students plant seeds in tiny pots and put together the right mix of gravel, dirt and fertilizer. There was also a composting demonstration and a terrarium workshop where students could learn about manure. Additionally, those with a green thumb could take home miniature plants.
Christine Burney, an illustration student, learned how to grow grass and take care of her plant.
"It's an amazing event," said Burney. "I'm so excited I got my own plant."
Scout Rieder, a fashion marketing and management student and founder of 'The Thrifty Hippie,' an environmentally conscious store, had a stall at the event.
"My aim is to get people to not choose fast fashion," said Reider. "I felt like this event was perfect to showcase my work and get people to understand the relevance of sustainable fashion."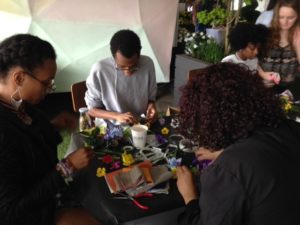 The event also offered a raffle for tickets to the Shaky Beats and Shaky Knees music festivals, provided by SCAD Atlanta Radio, a magic show by Henry Lin, a fashion design student, and a tai chi workshop offered by Professor Matt Maloney. Tai chi is a gentle form of exercise which creates balance and is almost like meditation in motion.
"Since Professor Maloney conducted a meditation session at the Earth Day event last year, I asked him if we could do something similar this year, and we came up with Tai Chi," said Yeliz Motro, the president of the Students' Green Initiative and a second-year animation student. "It emphasizes on the importance of being in tune with your body and your environment."
Other craft-oriented activities which saw a lot of participation were the flower crown workshop and the "Make Your Own Notebook" workshop. Members of SGI encouraged participants to choose greener alternatives through these workshops and pay careful attention to everyday activities impacting the environment.