Fashion weekend brings Atlanta into the fold
by :
Emma Dakin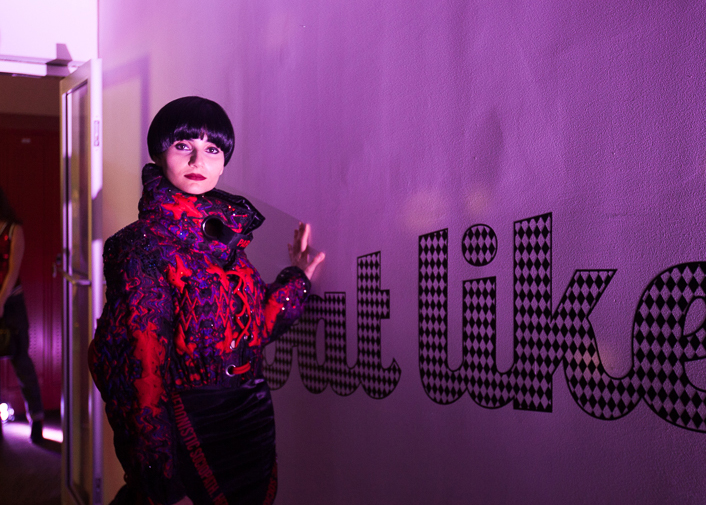 The inaugural SCAD FASHWKND 2017 offered several events in both Savannah and Atlanta to showcase student designers and the fashion program May 19-21.
Traditionally, the annual spring fashion show in Savannah has been the only scheduled opportunity to see designs from SCAD students, but for 2017, SCAD expanded the experience into a weekend event. Following the traditional runway show May 19, SCAD offered a Q&A session with artist, director and SCAD Étoile-winner David LaChapelle at SCADshow May 20 and an interactive fashion showcase at the Atlanta main building on May 21.
The interactive showcase featured the same designs and models that walked the runway in Savannah, only this time the garments were on display in a series of tableaux vignettes that incorporated SCAD decorations, music, props and interaction. Guests could also follow along with the series of vignettes using a virtual guide on their phones.
SCAD President Paula Wallace described the showcase as a way to invite the entire SCAD family to participate in fashion weekend.
"In Savannah, people get to see the clothes in action while Atlanta offers the opportunity to actually interact with the designs," said Wallace.
Following the showcase at the main building, guests were able to meet with designers and purchase jewelry and garments. Merline Labissiere, a SCAD fashion alumna who graduated in 2011, was one of several alumni who had the chance to sell their merchandise. Labissiere said she thought SCAD's decision to offer events in Atlanta was a perfect move.
"I love it," said Labissiere. "Atlanta has really grown in fashion and it's a bigger city than Savannah, so it's perfect. It's perfect timing."
For a full list of alumni with available designs for purchase, click here.