Cool off at the pool before finals week at the annual Spring Fling
by :
Arundhati Prasad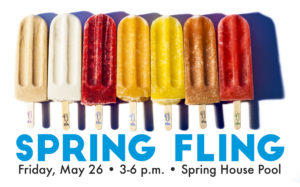 SCAD Atlanta Student Media, Residence Life and Housing and Student Life are hosting the annual Spring Fling Friday, May 26 from 3 to 6 p.m. at the Spring House Pool.
Spring Fling, an end of quarter pool party offering free popsicles from King of Pops and music from SCAD Atlanta Radio, gives students the opportunity to take a break from finals and spend time with friends and classmates before summer comes.
Lex Miniel, a fourth-year sequential art student and the music director at SCAD Atlanta Radio, said she's looking forward to the event. "I love hanging out with my friends by the pool and eating free popsicles," said Miniel. "The music is great too, we'll have some cool tunes playing, so you should definitely be there to celebrate the end of the quarter."
In case of adverse weather, the event will move to the Spring House lobby.