Music Midtown remains Atlanta's premier music festival
by :
Paulomi Mukherjee
This year's Music Midtown music festival offered magic and fun from Sept. 16 -17 in Piedmont Park. The festival featured a diverse lineup of more than 30 artists of different genres across four stages. Whether you were looking to jam to some rock 'n' roll, hip hop, country or pop, Music Midtown had something for everyone.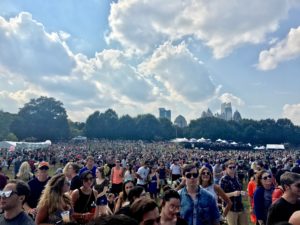 This year's lineup included artists Dua Lipa, Future, Tove Lo, Mumford and Sons, Bastille, Zara Larsson, Big Sean, Blink-182 and the amazing Bruno Mars headlining.
The crowd was filled with young music lovers from all over the Southeast ready to get their jam on through the weekend. As everyone was jumping in sync to Future and Big Sean, one couldn't help but notice the love of hip hop culture in Atlanta. It is such a booming genre that has a number of roots grounded in the city we call home.
Future's chartbuster "Mask Off" made the audience go wild. On the other end of the spectrum, lovers of pop music danced along to Bruno Mars and favorite tracks from his latest album as well as some of his old time favorites like "Just The Way You Are." Several other artists such as Lizzo, Two Door Cinema Club, Vintage Trouble and Russ gave performances that were filled with energy and thrilling as well.
Music Midtown offered more than just performances though. There were interactive experiences sponsored by companies such as Razer, Google and The Tabernacle. For people who were just looking to chill out and feast on some tasty delicacies, there were food trucks that included numerous cuisines from all over the world. From Cuban sandwiches, to Indian food, to good old pizza and lemonade, Music Midtown had it all.
If you were too tired from the crowded pits and lines you could even make your way to the ferris wheel to catch a bird's eye view of the festival along with stunning scenery of the Atlanta skyline. Although the tickets might have been a little pricey for college students, Music Midtown offered a number of ways to win free tickets on Facebook and even had an early-bird offer for people who booked in advance. If you're looking for a great way to end your summer with a fantastic weekend filled with music, delicious food and friends, make sure to save up for some tickets so you can enjoy Music Midtown next fall.
Hi! I'm an Animation student at the Savannah College of Art and Design. I write for the SCAD Connector as features editor! Writing, like drawing has always been a passion of mine. It helps me vocalise things that are otherwise harder to say or share. Feel free to reach out to me through Facebook or Email if there is something you want to share or think needs to be said on The SCAD Connector!