Grant Lau discusses title design at aTVfest
by :
Arundhati Prasad
Title design is one of the most impactful aspects of visual storytelling and a challenge for creatives to express stories and content in a short period of time. On Feb. 3, Grant Lau, art director for Imaginary Forces (IF), visited aTVfest to share his process, journey and work with students and guests. While in conversation with motion media professor Christina Maloney, Lau spoke about his education, interests and how he started out as a young art director. Before choosing the graphic design path, Grant was a business major. He switched to graphic design halfway through his undergraduate degree as he wanted a mix of business and art.
While applying for jobs as a young creative, he was keen on working with IF and pursued them for an internship. "I'll take out the trash," said Lau to his now employer. He has since spent 20 years of his life at IF creating beautiful title sequences and motion graphics as one of the key art directors in the company.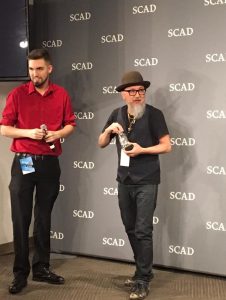 Lau shared his main goals for good title design while discussing some of his projects. He said he believes that one must establish a theme and create a mood, know the genre they're working with and make an impactful first impression.
For "Southland," a crime show based in L.A., his team had to recreate photos from real life crime scenes. Using the resources they had, Grant and his team staged and photographed crime scenes for the project. "It was so good, we almost got sued for it," joked Lau.
When asked at what point film makers decide on the title sequence in the filming process, Grant responded with a laugh and said, "At the end."
His advice to young creatives is to always be hungry for doing good work. Lau encourages students to reach out to people and spend quality time learning from peers in the industry.