SCAD Atlanta students make waves at Global Game Jam 2017
by :
Emma Dakin
SCAD Atlanta students participated in Global Game Jam (GGJ) 2017 at the DMC Jan. 20 – 22.
GGJ is a worldwide event that challenges participants to create a game in just 48 hours. According to the official website, more than 36,000 people from 95 different countries participated, creating more than 7,000 games.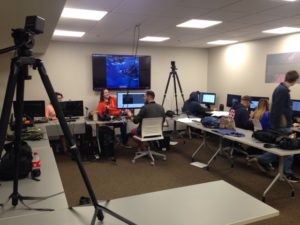 This year's theme was "Waves," prompting games in a variety of platforms such as PC games, touch screen games, virtual reality, eye-tracking, physical electronics and tabletop games. The winning game for the SCAD Atlanta site was "Take the Stage," a rhythm-based obstacle course game.
Jacob Phillips, a senior and interactive design and game development student, said GGJ was challenging, but rewarding.
"It's a lot of work, but a lot of fun," said Phillips. "I learned a lot of things I didn't know before. There's so many different aspects that go into making a game."
Phillips said that he highly recommends the event to SCAD students because it's great preparation for post-graduate work.
"You definitely learn teamwork and collaboration," said Phillips. "You also experience deadlines and working under pressure."
The next GGJ is scheduled for Friday, Jan. 26 through Sunday, Jan. 28, 2018.
For more information about GGJ, visit www.globalgamejam.org.
To see the 2017 game submissions, visit www.globalgamejam.org/2017/games.